League of Friends (Newark)
Registered charity no. 219251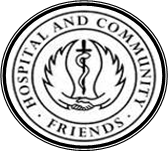 The League of Friends of the Newark Hospital were formed in April 1957. The Friends are a motivated and active voluntary organisation committed to fundraising to enhance the patient services at our local community hospital. We do not have any paid fundraisers. The Friends are able to provide much needed equipment and comforts for the benefit of patients, visitors and staff through income raised by the work of our team of fantastic volunteers.                             
The Friends, supported by hospital volunteers also run the Mary Taylor Coffee Lounge and the Out Patients Tea Bar both of which are extremely popular. We continue to hold our usual events which include quiz nights, tombolas and very successful raffles.
May 2018
The Friends of Newark Hospital  have purchased tower fans to keep patients, visitors and staff cool over the summer at a cost of £1,272.  Pictured with the fans are: Adele Bonsall - Matron,  Nadia Whitworth - Friends of Newark Hospital Vice Chair & Secretary, June Howsam - Friends of Newark Hospital Chair andMichael Thomson - Team Leader Urgent Care.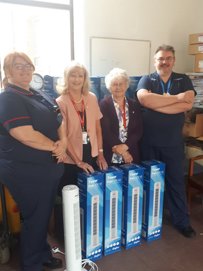 December 2017
Donation of £20,000 benefits Breast Services at Newark Hospital
A £17,000 donation added to a donation of £3,000 by Southwell Pink Ladies has purchased a Bodyjet Evo Fat Transfer Machine for use at Newark Hospital.  The purchase of this equipment will mean being able to provide more Breast Services for patients at Newark.  Members from the League of Friends and Southwell Pink Ladies are pictured with Consultant Breast Surgeon Mr Johan and theatre staff.