League of Friends (Newark)
Registered charity no. 219251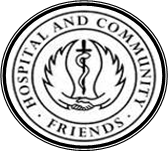 A registered charity no. 219251
Officers of the Charity are:
Chairman - June Howsam                          Treasurer - Bridget Cobb 
Secretary Nadia Whitworth - whitworthcharlie@aol.com
The League of Friends of the Newark Hospital were formed in April 1957. The Friends are a motivated and active voluntary organisation committed to fundraising to enhance the patient services at our local community hospital. We do not have any paid fundraisers. The Friends are able to provide much needed equipment and comforts for the benefit of patients, visitors and staff through income raised by the work of our team of fantastic volunteers.                             
The Friends, supported by hospital volunteers also run the Mary Taylor Coffee Lounge and the Out Patients Tea Bar both of which are extremely popular. We continue to hold our usual events which include quiz nights, tombolas and very successful raffles.
Sconce Ward Improvements
The League of Friends raised money in partnership with the Hospital Charity for improvements to be made on Sconce Ward at Newark Hospital.  £105,000 was raised to make adaptations to the ward making it more dementia friendly. A new room for patients who need family members close was also refurbished.
Chairman June Howsam opened the ward with Sherwood Forest Hospital Trust Chair John MacDonald, members of the Trust Board and staff and patients on Sconce Ward.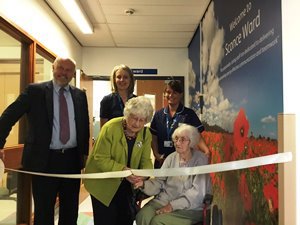 February 2020
A Valentine's Raffle was held at Newark Hospital.  £108 was raised with prizes of roses, wine and chocolates.  John won the first prize and is seen with colleague Marcus of NHIS.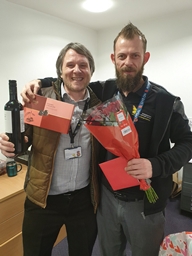 December 2019
The Newark Rock Choir performed a Christmas concert at Holy Trinity Church raising a tremendous £640.50 for the Friends of Newark Hospital.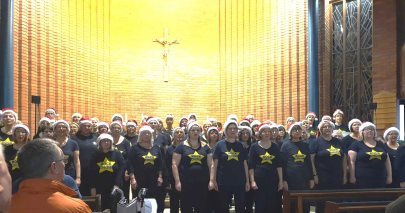 A Christmas Fayre was held on 3rd December at Newark Hospital.  Stalls included a tombola, lucky dip, gifts, crafts, cakes and a raffle.  The fantastic sum of £457.55 was raised which will be used to support patients at Newark Hospital.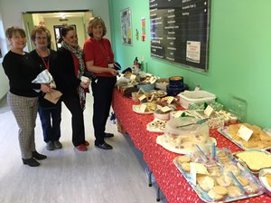 September 2019
A 'Pink Day' was held at Newark Hospital where a fantastic £756.10 was raised. Staff and volunteers wore items of pink clothing and there were various stalls including a tombola, cake sale and raffle.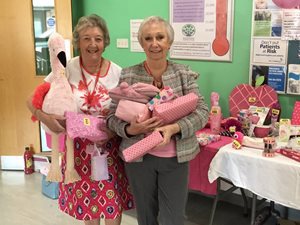 June 2019
£33,500 now raised for the Breast Services Appeal
The Friends of Newark Hospital presented a cheque to Sherwood Hospitals Trust Chairman John MacDonald for £6,000 at their recent 61st AGM. The money was raised through sales in the two refreshment areas at Newark Hospital.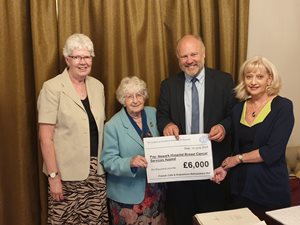 April 2019
Donations raises  Breast Cancer Services Appeal to £22,000
Thank you to the Friends of Newark Hospital for their generous donation of £2,000 to the breast appeal from recent raffles, cake sales and a quiz night.