Donations to Our Charity
 
Below are a selection of the events and donations that have taken place:
March 2020
Angela McCreadle and Wendy Broughton organised an Annual Breast and Balls event resulting in a donation of £12,000 to the Trust.  The money was divided equally between the Urology Department and Breast Services. Mr Jahan -and Mr Ashraf accepted the donation on behalf of their departments.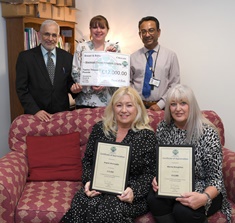 February 2020
Marion Edson and family presented Dr Molyneux of the Respiratory Department with £350 in memory of John Edson.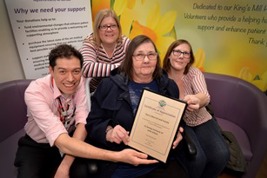 Shoulder, elbow, knee, wrist  and ankle joint injection training aids at a cost of £3,400 have been purchased with  funding secured through the 2019 Dragon's Den project. Departments submitted bids for funds provided by the Volunteer Fundraising Team.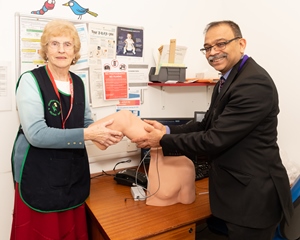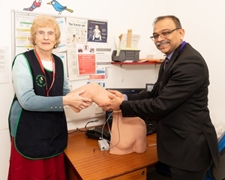 The King's Mill Volunteer Fundraiser's donated £3,620 for the Clinic 15 Oncology Services.  The money will be used to support the hair loss clinic which provides wigs and hair care accessories as well giving support and advice.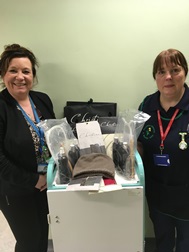 Thanks to our wonderful King's Mill Volunteers who have purchased a selection of books for the neo-natal unit. It has been proven that reading, talking & singing to babies will comfort & soothe them whilst helping to build a bond.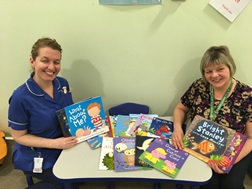 January 2020
Woodland Ward are delighted with their 4 specialist recliner chairs purchased at a cost of £10,508 by the SFH Charity. The funds were kindly donated in memory and in appreciation of care.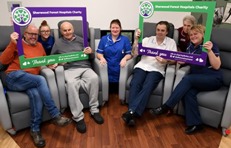 Therapy Team Leader Elizabeth Varley & team working on the Stroke Unit thanked  the KMH volunteers who donated Saebo MAS & therapy equipment totalling £3,793 following their successful Dragon's Den bid.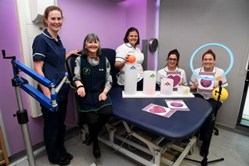 Christine Redfern presented a cheque for £1000 to Ward 51 in memory of her late husband Peter. She wanted to thank them for the wonderful care and compassion they received whilst he was on the ward.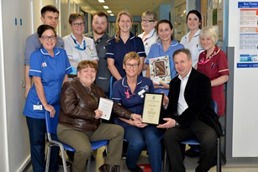 December 2019
Christmas Cheer
Lots of donations have been received so patients can celebrate the festive season.  Here are a selection.
Lisa and Carl Slaney representing Mansfield Rugby Club  presented Christmas gifts for the children on Ward 25.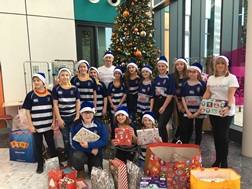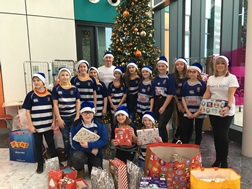 Autumn Johnson of Slimming World, Skegby held a fundraising event raising £416.90 for the Children's Ward. Autumn also donated gifts for the children.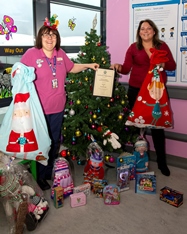 H W Martin donated Christmas gifts to the children on Ward 25.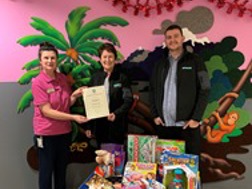 Staff from Kaefer Ltd donated lots of chocolates for the children on Ward 25.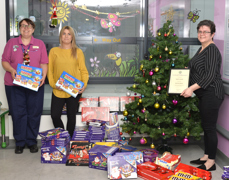 Jack Kerry and his family cycled 140 miles on an exercise bike raising £1,025 for the Children's Ward.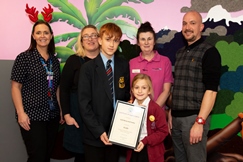 Players and staff from the first team of Mansfield Football Club attended the Children's Ward and handed out festive gifts.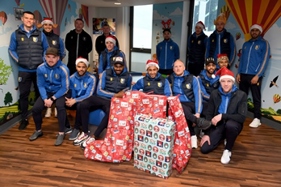 Yvonne West and her family donated £700 to the Stroke Unit in loving memory of Mum, Irene Bartlett.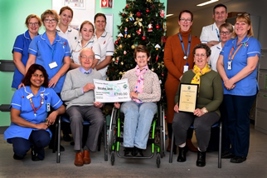 Marisia Cooke and family purchased a Neopuff for the NeoNatal Unit In memory of their mother Audrey Cooke, a former midwife.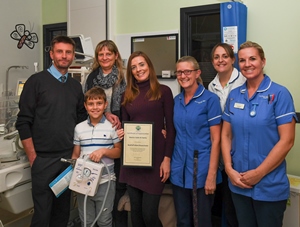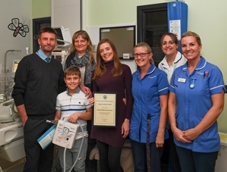 The Resuscitation Department have taken delivery of 5 paediatric mannequins purchased at a cost of £4770 by the King's Mill volunteers after being successful at a Dragon's Den project event. These will enable improved infant CPR training.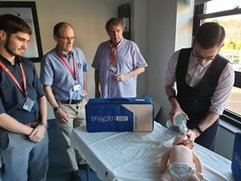 Claire Meakin held a Masquerade Party in memory of her late son Liam to celebrate what would have been his 21st birthday. Claire purchased a cuddle cot and other items for the Butterfly Suite.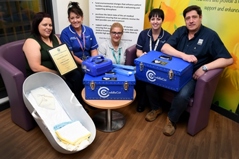 November 2019
John Vardy  completed the Mansfield 10K Run in September 2019 raising £271 for the Paediatric Fund.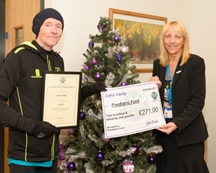 The Henshaw Family kindly donated £843.45 to the Renal Unit in loving memory of their father, Michael Henshaw.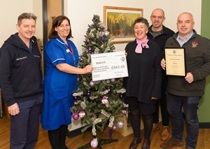 Karl and Nicola Gill for raised the wonderful amount of £3000 which was divided between the Stroke Unit and Therapy Services.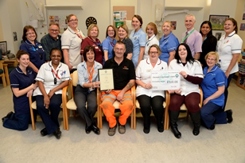 The Broomknowe Quilters held a patchwork & quilting show raising a fantastic £6,450 for the Breast Unit at King's Mill Hospital.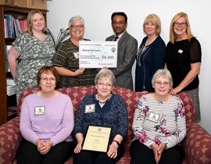 Following a sponsored climb of Kinder Scout by staff from Ward 31, the funds raised were used to purchase specialist chairs.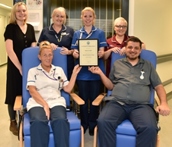 Artie Bowen took part in the Great North Run to raise funds for the Intensive Care Unit in loving memory of his son Tony.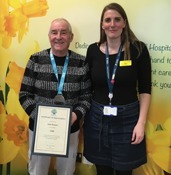 September 2019
Skoda of Rainworth have kindly donated a toy skoda for use in the Children's ward at King's Mill Hospital.  They also presented staff with books and teddies.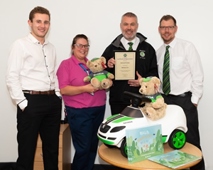 Sir John Cockle attended a presentation at King's Mill Hospital where he was presented with a certificate  for donating a fantastic £600 to the Gamma Scanner Appeal. The money was raised at a Charity Fun Day.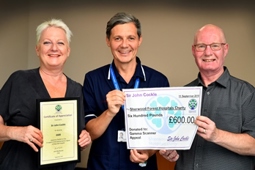 August 2019
A huge thank you to Diane Aspinall and the team on ward 44for holding a raffle to raise funds to support Respiratory Care on ward 44.
The Triangle Group, Mansfield Woodhouse held a coffee morning to raise funds for the Neo Natal Unit at King's Mill Hospital.  Andrew Macleod, Charge Nurse, from the Unit attended their meeting in August and was presented with a cheque for £500.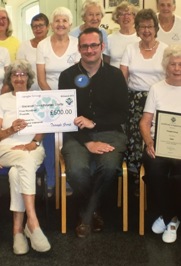 Mansfield Radio 103.2 visited Ward 25 at King's Mill Hospital to deliver toys that had been purchased from their annual appeal.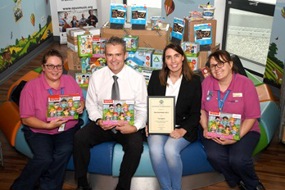 July 2019
Ward 25 received donations towards enhancing the care of their patients.
Rachael Parr and friends completed a 10K Muddy Run at Osmaston Manor, Derbyshire in loving memory of Rachael's niece Evie-Grace Parr raising a fantastic £2,045 for Ward 25.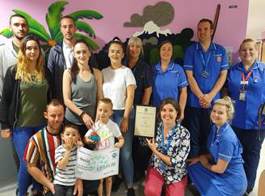 I-Jump Trampoline Park held a hamper raffle raising £147.66 and  Jordan Bate  held a yard sale and raised £160 which was used to purchase toys for Ward 25.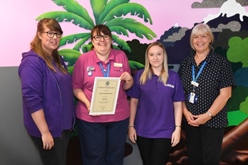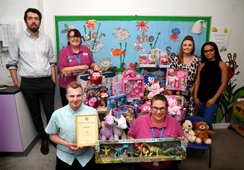 Playmania held a fundraising day where £440 was raised and Tania Willetts and staff from Ward 25 climbed Snowdonia raising £2,420 for their fantastic efforts.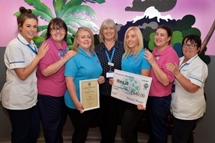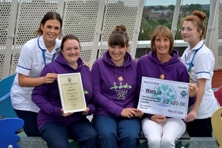 Keeley Gascoyne ran the London Marathon raising a fantastic £2,175 for the maternity bereavement suite.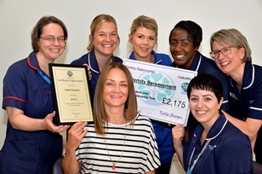 June 2019
Maxine Hosking and her colleagues from Nottinghamshire SANDS  kindly presented Overnight Care Packs to Maternity Bereavement. Maxine's daughter Amelia Hosking purchased and donated books entitled "These Precious Little People."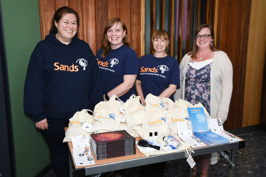 The League of Friends (Mansfield & Sutton) have donated  £44,500 to purchase a Fibroscan which will be used for liver fibrosis & cirrhosis diagnostics.  The items were presented by charity trustees to Consultant Sara Benfield & the Divisional Team.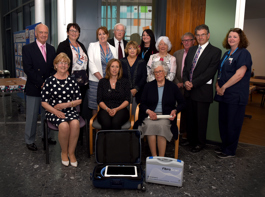 A water rower, cross trainer and exercise bikes have been purchased by the Friends of Newark Hospital for use in the Therapy Department at Newark Hospital.  The items, costing £2,000 were presented to staff in the department by the Secretary and Chair of the League of Friends.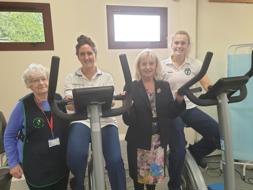 The ward 25 Flash Mob raised £530 to be shared equally between W25 and the Gamma Scanner Appeal. Maria Middleton also raised a further £400 for Ward 25 through a fundraising event with Loving Connections

Marion Burrells has chosen the Parkinson's Service at Sherwood Forest Hosptials Trust as her Charity while serving as Captain at Rufford Golf Club.  She presented a cheque for £2,337.33 to Nina Marshall, Parkinson Nurse Specialist.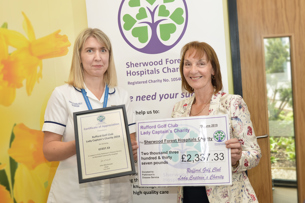 The Nottinghamshire Libraries Early Years Team and the Big Blue Bookstart Bear visited Ward 25 at King's Mill Hospital after donating resources to the Ward for National Bookstart Week.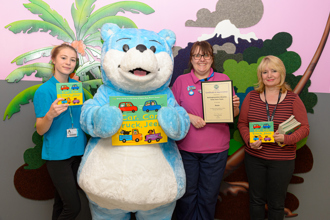 May 2019
Apps costing £3,049.20 have been purchased by the Charity for the Stroke Unit. The Apps for IPads are used by staff to work with patients who have suffered a stroke develop their perception, visual and cognitive function.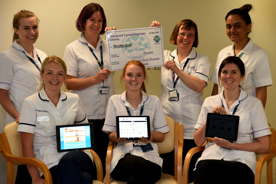 John Peterson kindly donated £500 to Ward 12 in memory of his father, Ian.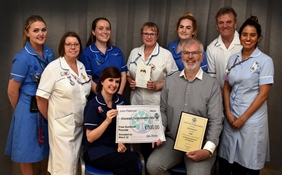 Emergency Department staff raised a fantastic £893.00 by  holding  a cake sale and tombola to raise funds to enhance the facilities in the Bluebell Room in the Emergency Department.