Donations to Our Charity
 
Below are a selection of the events and donations that have taken place:
September 2019
 Sir John Cockle attended a presentation at King's Mill Hospital where he was presented with a certificate  for donating a fantastic £600 to the Gamma Scanner Appeal. The money was raised at a Charity Fun Day.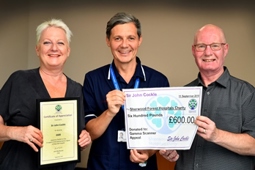 August 2019
A huge thank you to Diane Aspinall and the team on ward 44for holding a raffle to raise funds to support Respiratory Care on ward 44.
The Triangle Group, Mansfield Woodhouse held a coffee morning to raise funds for the Neo Natal Unit at King's Mill Hospital.  Andrew Macleod, Charge Nurse, from the Unit attended their meeting in August and was presented with a cheque for £500.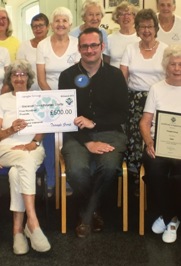 Mansfield Radio 103.2 visited Ward 25 at King's Mill Hospital to deliver toys that had been purchased from their annual appeal.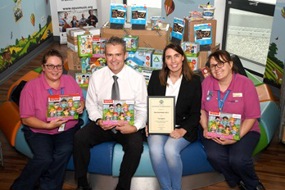 July 2019
Ward 25 received donations towards enhancing the care of their patients.
Rachael Parr and friends completed a 10K Muddy Run at Osmaston Manor, Derbyshire in loving memory of Rachael's niece Evie-Grace Parr raising a fantastic £2,045 for Ward 25.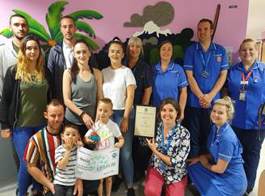 I-Jump Trampoline Park held a hamper raffle raising £147.66 and  Jordan Bate  held a yard sale and raised £160 which was used to purchase toys for Ward 25.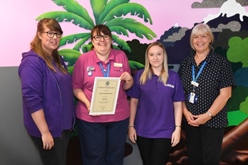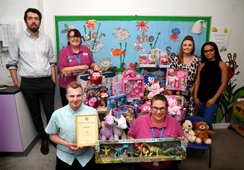 Playmania held a fundraising day where £440 was raised and Tania Willetts and staff from Ward 25 climbed Snowdonia raising £2,420 for their fantastic efforts.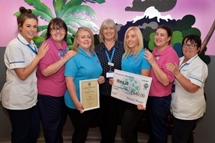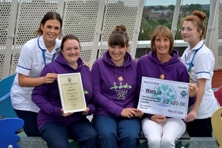 Keeley Gascoyne ran the London Marathon raising a fantastic £2,175 for the maternity bereavement suite.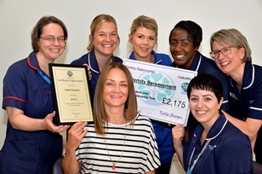 June 2019
Maxine Hosking and her colleagues from Nottinghamshire SANDS  kindly presented Overnight Care Packs to Maternity Bereavement. Maxine's daughter Amelia Hosking purchased and donated books entitled "These Precious Little People."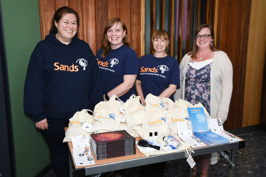 The League of Friends (Mansfield & Sutton) have donated  £44,500 to purchase a Fibroscan which will be used for liver fibrosis & cirrhosis diagnostics.  The items were presented by charity trustees to Consultant Sara Benfield & the Divisional Team.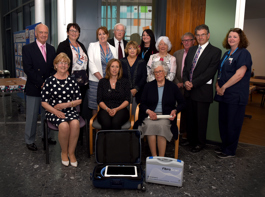 A water rower, cross trainer and exercise bikes have been purchased by the Friends of Newark Hospital for use in the Therapy Department at Newark Hospital.  The items, costing £2,000 were presented to staff in the department by the Secretary and Chair of the League of Friends.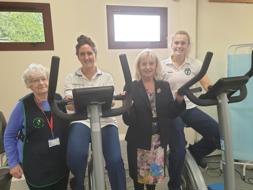 The ward 25 Flash Mob raised £530 to be shared equally between W25 and the Gamma Scanner Appeal. Maria Middleton also raised a further £400 for Ward 25 through a fundraising event with Loving Connections

Marion Burrells has chosen the Parkinson's Service at Sherwood Forest Hosptials Trust as her Charity while serving as Captain at Rufford Golf Club.  She presented a cheque for £2,337.33 to Nina Marshall, Parkinson Nurse Specialist.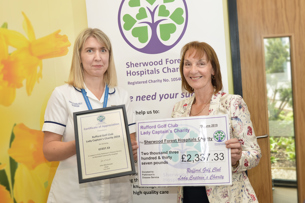 The Nottinghamshire Libraries Early Years Team and the Big Blue Bookstart Bear visited Ward 25 at King's Mill Hospital after donating resources to the Ward for National Bookstart Week.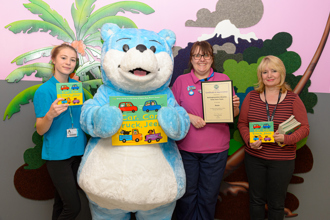 May 2019
Apps costing £3,049.20 have been purchased by the Charity for the Stroke Unit. The Apps for IPads are used by staff to work with patients who have suffered a stroke develop their perception, visual and cognitive function.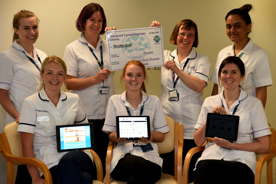 John Peterson kindly donated £500 to Ward 12 in memory of his father, Ian.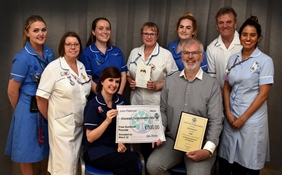 Emergency Department staff raised a fantastic £893.00 by  holding  a cake sale and tombola to raise funds to enhance the facilities in the Bluebell Room in the Emergency Department.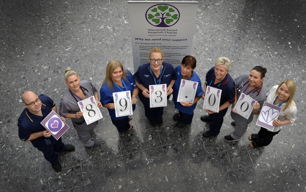 April 2019
The Sherwood Forest Hospital's Charity are delighted to support the purchase of a hand-held slit lamp for the ophthalmology team at Newark Hospital at a cost of £4074. This will assist with examinations of inpatients, young children & patients unable to transfer from wheelchairs.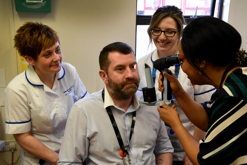 The Voluntary Services Department donated three optiflow machines to the ICCU at King's Mill Hospital.  The machines cost £4,950.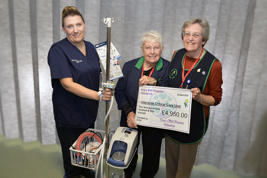 3 hydrotilt chairs costing £7,291 have been purchased by Charitable Funds for patients on Ward 53.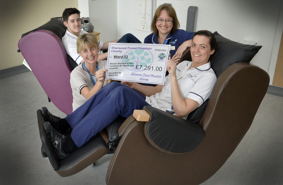 A C2 Nerve Monitor costing £10,000 was purchased by Charitable Funds for use in theatres by Mr Akhtar, Consultant Surgeon.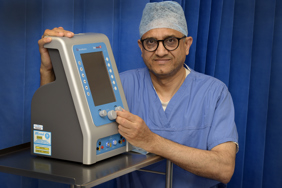 Craig Brittlebank and his 11 year old son Bailey climbed Ben Nevis raising a fantastic £1,500 for the children's ward. The funds were used to purchase TVs and play equipment for the ward.

Mansfield Roadrunners Scooter Club made their annual visit to the children's ward delivering Easter Eggs. A donation of £1,070 was also made to the Neo Natal Unit.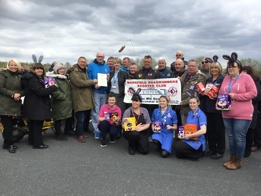 Residents, visitors and staff from Magnolia House Care Home kindly donated Easter gifts to the children on Ward 25

NHIS staff have held several fundraising events raising £1,000 to purchase 3 x iPads for the children on Ward 25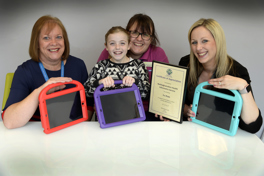 Oaklands Care Home for kindly donated Easter Eggs to the children on Ward 25.

Sandra Eyre and members of her family donated £240 from the funeral of Sandra's Mum, Joyce. The money will be used in the Diabetic Foot Clinic.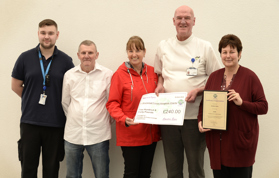 Sun Chemical Ltd  kindly donated Easter eggs for patients on the care of the elderly wards.

An ice machine costing £2,120 has been purchased by Charitable Funds for Ward 21. The ice will be used to assist with the reduction of swelling for orthopaedic patients.

March 2019
Maxine Hoskins and colleagues from the Nottinghamshire SANDS group kindly donated a bedside crib to the Butterfly Suite.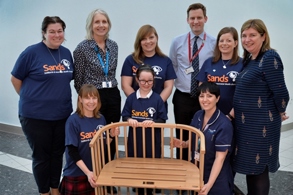 Claire,  James and Ava Spindley raised £1205 from a coffee morning to raise funds for the Children's Bereavement Centre at Newark and the Butterfly Suite at King's Mill Hospital. The donation is in memory of their son Austin James Burt Spindley.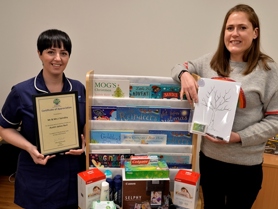 February 2019
Staff nurse, Diane Taylor, held an afternoon tea in support of the Day Case Patient Environmental Improvement Project and raised £269.49.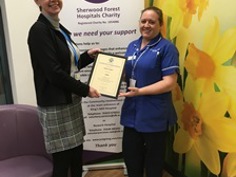 Gordon Beastall donated £1,000 in loving memory of his late wife Christine. The funds are to be shared between the haematology and stroke funds in appreciation of care received.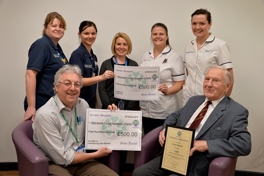 Angela McCreadie & Wendy Broughton held their annual Breast & Balls Event and raised a fantastic £11,000 to be shared between Breast & Urology Services at King's Mill Hospital.