Volunteer Case Studies
Craig Curtis became interested in doing voluntary work after completing a 10 week chronic back pain management course. Six of the sessions were in the clinic 10 workshop. I enjoyed the course so much I enquired about voluntary work in the workshop with technical instructor Tom Frew. I advise other patients about woodwork projects and assist Tom in preparing the clinic for everyone. The role has been great for me and really improved my confidence.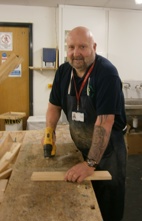 Pam Weir started volunteering at Newark Hospital in 2001.  She works in the busy fracture clinic in Main Outpatients and enjoys meeting the patients and working in a busy environment.  Pam enjoys the camaraderie of working with the nursing and clinical teams, and feels that the role of the volunteer is to enhance the service, and provide a friendly and reassuring presence to patients attending the clinic.