Door always open for healthcare recruits
Posted Tuesday, July 5, 2022 12:14 PM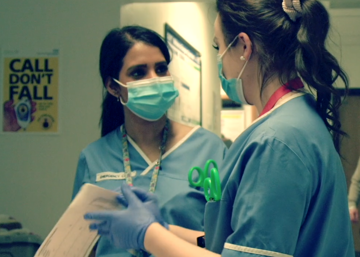 The new Chief Nurse at Sherwood Forest Hospitals has declared the organisation permanently open for recruitment to key roles.
Phil Bolton, who recently joined the trust having previously worked there for more than 20 years, was speaking as a website was launched to help people easily find their perfect job in healthcare.
The dedicated recruitment site – available online at careers.sfh-tr.nhs.uk – is a one-stop shop for anyone looking to work for the trust in a range of roles. This includes as a nurse, midwife, a healthcare support worker, apprentice, Allied Health Professional or in one of a range of other vocational and professional roles. Examples include healthcare physiologists, therapy assistants, occupational therapy, physiotherapy and radiography to name just a few.
One of the main benefits of the new website is that jobhunters can register their details for free to receive information about any future vacancies that arise in their areas of interest. This will help the trust to match their interests to the right role for them.
The site features current vacancies, advice on how to prepare for interviews and information on what candidates can expect during the application process.
Potential applicants can find out more about key roles and opportunities across different divisions and specialities by watching videos of current employees explaining what they do and what it's like to work at the trust.
A timed test can be done online for the roles that require a drug calculation test. Results are given immediately, helping to speed up recruitment. There's a short survey where people can check whether their own values match those of the trust.
There's also information for prospective employees about the trust's commitment to equality, diversity and inclusivity, and dedication to research, as well as the benefits of living and working in the mid-Nottinghamshire area.
For the last four years, Sherwood Forest Hospitals has been rated as the best NHS acute hospital trust in the whole of the Midlands by the trust's own staff in the national NHS Staff Survey. Almost three-quarters of staff (74.9%) said that they would recommend the trust as a place to work, making it the second-best acute trust in the country.
The trust was awarded the prestigious "Acute or Specialist Trust of the Year" honour at the 2021 Health Service Journal Awards – one of the most coveted accolades in UK healthcare.
Chief Nurse Phil said: "Sherwood Forest Hospitals is always open to applications across nursing, midwifery and Allied Health Professionals and our new website aims to make the recruitment process much quicker and easier for both applicants and the trust. The best way to get a flavour of what it's like to work in Team SFH is to hear directly from our employees - so take advantage of the video clips and wide range of information to support your application."
Rob Simcox, Director of People, said: "Sherwood is nationally recognised as being a great place to work and deliver care. We know that happy colleagues deliver better care to the patients we're here to serve and we do all we can to ensure our teams work in a supportive, inclusive environment, which offers plenty of opportunities for development and progression. We do not just care for our patients; we also care for our employees. We would love you to join us and look forward to receiving your application."
The website will be further developed over the coming months to include vacancies for an even wider range of roles. In the meantime, visit the trust's main website Sherwood Forest Hospitals (sfh-tr.nhs.uk) for roles including medical and dental, administrative services and health science services.