Home >
News >
2023 >
March >
Sherwood Forest Hospitals Awarded Government Funding to Improve Discharge Facilities
Sherwood Forest Hospitals Awarded Government Funding to Improve Discharge Facilities
Posted Monday, March 6, 2023 4:01 PM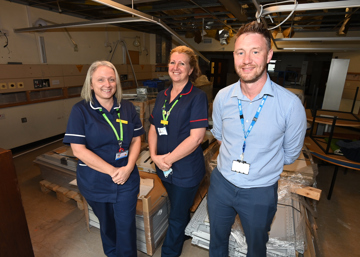 Patients at two local hospitals will soon be able to benefit from better discharge facilities thanks to government funding of more than £1million that will improve the existing discharge lounge at King's Mill Hospital and create a new, dedicated discharge lounge at Newark Hospital.
This Department of Health and Social Care funding will further enhance the care that can be delivered to patients, by creating a more positive and comfortable experience for patients while they are in hospital.
Increasing the capacity of the Discharge Lounges will help free-up hospital beds to make way for people who are waiting to be admitted, reducing the time it takes for patients to be admitted from the Trust's Emergency Department.
There are also significant advantages for the patient in being transferred to a designated discharge lounge, as they provide a more comfortable environment for patients to wait while they wait for their medication and prepare to be transferred home.
Denise Wharmby, Matron for Urgent and Emergency Care, Sherwood Forest Hospitals advised, "There is a lot of evidence to show that patients recover better at home once their treatment in hospital is complete. Waiting in the more relaxed and friendly environment of the discharge lounge also gives specialist staff the opportunity to help prepare patients to re-adjust as they prepare for life out of hospital" 
Steven Jenkins, Divisional General Manager of Urgent and Emergency Care, Sherwood Forest Hospitals explained, "Currently, only a very small percentage of Trust discharges can be accommodated in the discharge lounge in King's Mill and in Newark there is presently no discharge lounge available. These improvements and the greater capacity will significantly increase the percentage of patients who can transfer to the Discharge Lounges rather than occupying much needed beds once they are ready to be discharged. Making every bed count really is key'.
There is huge demand for NHS services across the county right now and our hardworking staff are going to extraordinary lengths every day to be there for the patients they care for.
This move is just one of several measures being taken by the Trust to relieve current pressures, which also includes treating more patients in its Same Day Emergency Care unit (SDEC) that is helping to reduce hospital admissions.
Work has already started, and the new Discharge Lounges will be open by spring.