Audiology | Adults
Just a reminder to all of our patients that the Audiology Department at Sherwood Forest Hospitals NHS Foundation Trust is still here for you, but are just working slightly differently due to COVID19.
We offer a postal service for repairs, batteries and replacement tubes and a face to face hearing aid repair clinic for repairs and moulds for all Sherwood Forest Hospitals patients.
If you just require batteries and/or tubing please contact us on 01623 622515, extension 4692 and leave a message with your name, date of birth and your request, alternatively, you can contact us via email at sfh-tr.audiologyhearingaidrepairs@nhs.net These will be dealt with in a timely manner.
To book a face to face repair appointment at Kings Mill Hospital please phone 01623 672383.
For face to face repairs at Newark Hospital 01636 685750
If you still wish to post your hearing aids in for repair these should be sent by recorded delivery to; Audiology, Clinic 8, Kings Mill Hospital, Mansfield Road, Sutton in Ashfield, Notts, NG17 4JL, with a note explaining the problem. We will return the aid to you by post.
You may also drop off your hearing aid at clinic 8 reception at Kings Mill Hospital or outpatient reception at Newark Hospital in an envelope clearly marked with your full name, address, date of birth and telephone number so that we can contact you to arrange collection when complete. Please note that this service may take up to five working days.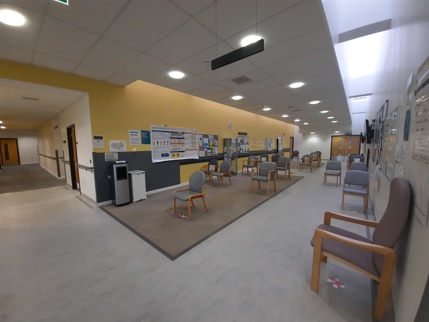 The Audiology Department specialises in assessing, diagnosing and treating hearing and balance problems for people of all ages from birth. Our highly skilled team of audiologists use a range of tests to assess hearing and can fit hearing aids for patients as necessary. We also provide counselling for tinnitus (noises in the ears), balance tests and rehabilitation.
We have excellent levels of patient satisfaction because of our high quality, patient-centred care. We are accredited by the United Kingdom Accreditation Service against the requirements of Improving Quality In Physiological Services.
The Audiology staff work closely with the Ear, Nose and Throat department, who investigate, diagnose and treat hearing and balance disorders. Our main audiology base is at King's Mill Hospital and we also provide the majority of these services at Newark Hospital.
How to access our audiology services
Patients who have not previously been seen in our department can be referred directly to Audiology by their GP if they meet the following criteria: 
• Are over 18 years of age 
• Have hearing levels which are similar in both ears 
• Have hearing loss which is not sudden or fluctuating 
• Do not have troublesome tinnitus (noises in the ears) or vertigo 
• Have ears which are free from wax, infection, discharge, perforation and skin conditions 
Your GP or practice staff will make you an appointment if appropriate, via the Hospitals Choose and Book system to suit you. Appointment waiting times are short and you will be given a telephone number to contact if you need to cancel or change your appointment. It is important to ensure ears are clear of wax before attending the appointment as this can affect test results and we may not be able to proceed with a hearing fitting if appropriate.​ If there is too much wax please arrange for this to be removed prior to your appointment with your GP surgery.​
Click here to read more about your direct referral appointment
If you proceed with the fitting of hearing aids, a further appointment will be made for you to attend so that this can be carried out. Click here to read more about your hearing aid fitting appointment.
The following website may be useful if you have recently been fitted with hearing aids or require further information;
Follow Up
We also offer a telephone or face to face follow-up appointment to discuss how you are progressing with your new hearing aids and we can answer any more questions you may have or make further adjustments to your hearing aid if necessary. This appointment is normally 8-10 weeks following your fitting to give you a chance to get used to your new hearing aid(s).
Hearing Aid Repairs
Once you have received a hearing aid from us, we also provide all ongoing service needs.  We recommend that tubing/domes are changed every six months. You can request new tubes and domes to be posted out to you by contacting us on 01623 622515 extensions 4692 or 4672. Please leave your name, address and date of birth on our answering machine service and we will post them out to you or alternatively contact us via email at sfh-tr.audiologyhearingaidrepairs@nhs.net
Please see links below for information on how to care for your hearing aid including retubing
Retubing - Earmould https://c2hearonline.com/custom_mould/retubing.html
How to care for slim tube aid https://c2hearonline.com/openfit/ha_care.html
How to care for aid mould https://c2hearonline.com/custom_mould/hearing_aid_care.html
If the hearing aid breaks, please see list of common faults and possible solutions which you can try before contacting us:
Tubing is discoloured, brittle and keeps slipping out – Replace the tubing
The hearing aid is whistling or screeching -  Have your ear checked for wax and ensure your earmould / dome is fitting properly. 
The sound keeps going off and then coming back on – Blow through the tubing and change the battery. 
Hearing aid is bleeping – Replace the battery. 
No sound – Check the tubing for blockages such as wax or condensation. 
Earmould is uncomfortable, or keeps slipping out - Check that you are fitting it correctly.
Please see link for troubleshooting https://c2hearonline.com/openfit/troubleshooting.html
If the problem cannot be rectified, please contact us on 01623 622515 ext 4692 or 4672 or via email at sfh-tr.audiologyhearingaidrepairs@nhs.net for further advice, or use our postal repair and battery service.
Lost hearing aids
It is hospital policy for the department to charge for lost hearing aids or those damaged through misuse. The charge is £75 per aid or £90 per aid and mould. Payment can be made over the phone using a debit card. Please contact us on 01623 622515 ext 4692 or 4672 via email at sfh-tr.audiologyhearingaidrepairs@nhs.net to arrange a replacement.
Reassessment
If you feel that you are no longer hearing well with your hearing aids, please contact us on 01623 622515 ext 4692 or 4672 or via email at sfh-tr.audiologyhearingaidrepairs@nhs.net to discuss your difficulties.