Audiology | Adults
Just a reminder to all of our patients that the Audiology Department at Sherwood Forest Hospitals NHS Foundation Trust is still here for you, but are just working slightly differently due to COVID19.
We are offering postal or 'drop and collect' services from our Kings Mill Hospital site for batteries, replacement tubes and hearing aid repairs. We are available to take your requests via telephone and can also offer advice if necessary regarding any queries you may have.
Please contact us on 01623 622515, extension 4672 or 4692.
Any hearing aids posted to us should be sent by recorded delivery to; Audiology, Clinic 8, Kings Mill Hospital, Mansfield Road, Sutton in Ashfield, Notts, NG17 4JL, with a note explaining the problem. We will return the aid to you by post.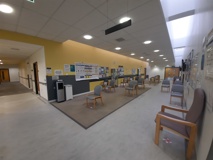 The Audiology Department specialises in assessing, diagnosing and treating hearing and balance problems for people of all ages from birth. Our highly skilled team of audiologists use a range of tests to assess hearing and can fit hearing aids for patients as necessary. We also provide counselling for tinnitus (noises in the ears), balance tests and rehabilitation. We have excellent levels of patient satisfaction because of our high quality, patient-centred care. We are accredited by the United Kingdom Accreditation Service against the requirements of Improving Quality In Physiological Services. The Audiology staff work closely with the Ear, Nose and Throat department, who investigate, diagnose and treat hearing and balance disorders. Our main audiology base is at King's Mill Hospital, where we provide hearing and middle ear function tests for patients who have appointments with ENT. Further tests can be provided to help the diagnosis and to decide on suitable rehabilitation. We also provide the majority of these services at Newark Hospital.
Patient comments from our feedback questionnaire
"The audiologist is professional and competent in her field. She has patience and taught me to use the hearing aid."
"It was a very pleasant experience."
"I felt extremely comfortable and at ease. The audiologist was very professional and courteous"
"A very good service. Excellent staff."
"I was dealt with ahead of my appointment time. The person I saw was efficient and friendly, Thank you"
"The audiologist was very professional and helpful"
"The results were explained to me at a level which I understood"
"A very pleasant and professional audiologist."
Meet the team
Head of Audiology - Heather Day-Lascelles
Clinical Lead Adult Audiology - Michelle Booth
Clinical Lead Paediatric Audiology - James Harrison
Specialist Audiologists - Cheryl Gamlin, Natalie Wakefield, Stephen Grainger, Ian Pleasance
Audiologists – Jacob Rowbotham, Hayley Mason, Jessica Ashby, Priya Patel, Nikoletta Petrou, Louise Green, Rebecca Scrimshaw, Rachel Hayden.
Apprentice Audiologists – Harriet Fidler, Libby Hawkins
Location and contact details:
The Audiology department at King's Mill Hospital is situated in Clinic 8 on the 1st floor of the King's Treatment Centre and is accessible by stairs or lifts. Our opening hours are Monday to Friday, 8.00 am to 6.00 pm.
We also offer audiology services at Newark Hospital, with the department situated on the ground floor in main outpatients. Audiologists from King's Mill Hospital provide the service at Newark, with opening hours of Monday to Friday, 8.30 am to 5.30 pm.
Once a person has received a hearing aid from us, we provide all ongoing service needs. We also provide a hearing aid repair service for faulty hearing aids.
The website www.C2Hearonline.com has useful information for hearing aid users, including videos on how to troubleshoot problems with your hearing aids.
Useful links
British Deaf Association (BDA): www.bda.org.uk
British Tinnitus Association: www.tinnitus.org.uk
Deafblind UK: www.deafblind.org.uk
Menieres Society: www.menieres.org.uk
Action on Hearing Loss (RNID): www.actiononhearingloss.org.uk
National Deaf Children's Society: www.ndcs.org.uk