Hearing Aids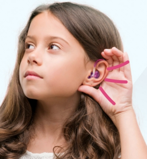 Hearing is imperative to speech and language development. Should a hearing loss be found then a hearing aid will provide amplification for the pitches  (frequencies) of sound where the testing has shown difficulty. This will help maximise a child's access to speech. Hearing aids are set using real ear measurements, which takes into account the size and shape of your child's ear and the hearing test results. This means that the hearing aid is personalised for your child's level of hearing difficulty.
Ear Moulds


To ensure the sound is directed into the ear, your child will have impressions taken of their ears to make into ear moulds. This is achieved by a small foam stopper being inserted a short distance down the ear canal and then a soft material gently positioned into the ear, which hardens in a couple of minutes. This is then removed and sent to a manufacturer to make into a soft ear mould.

As a department, we actively encourage children to personalise their hearing aids. There are varying colours or hearing aids and ear moulds your child can choose from. 
The National Deaf Children's Society is an excellent informational resource, please follow the link http://www.ndcs.org.uk
Children's Hearing Aid Repairs 
Should you feel that your child's hearing aid has stopped working, you can contact us to arrange an emergency appointment through one of the following routes:
Telephone: 01623 622515 Ext. 3341/3574

Email: sfh-Audiology@nhs.net

Drop off the hearing aid at Clinic 8 Audiology reception and a clinician will fix and ring the parents to collect it
Out of hours appointments are available at 8.15am and 5.15pm on certain days for children's hearing aid repairs.
Simple Troubleshooting 
Tube blocked with water bubbles
Disconnect the ear mould from the hearing aid and either blow down the tube or use an ear mould puffer to blow the moisture out
Check the battery
Ensure that the battery is inserted the correct way. If the battery is out of a new packet then try a battery from a different packet
Battery Warning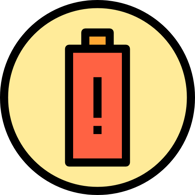 Please note that batteries are toxic and should be out of reach from babies and children at all times. Your Audiologist will add battery locks onto the hearing aids to ensure that babies and children are unable to get into the battery compartment.
If the hearing aid wearer has younger siblings in the house, then battery locks can also be added to older children's hearing aids as well. Please ask your Audiologist. Also, ensure that any older relatives or friends who wear hearing aids are aware of the risk should you visit with younger children.
C2Hear
The following website may be useful if your child has recently been fitted with hearing aids or require further information/troubleshooting;