Infant Feeding
The Infant Feeding Team at Sherwood Forest Hospitals provides antenatal education and postnatal care and support for parents, both in hospital and at home. The team comprises of two Specialist Midwives, who run a feeding challenges clinic, and the Lime Green Feeding Team Health Care Support Workers, who are based in the community.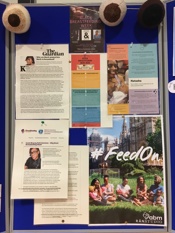 The Trust has had UNICEF Baby Friendly Accreditation since 2014 and the Maternity department achieved Level 3 re-accreditation in 2019 and is working towards Gold Award status. The Neonatal Team is looking forward to obtaining level 1 and level 2 accreditation.
From 1st April 2021 we will no longer be routinely providing formula milk on our maternity wards (Sherwood Birthing Unit and Maternity Ward) unless it is required for a medical need.
You don't have to decide how you want to feed your baby until they are born and you have them in your arms. For more information on breastfeeding please speak to your midwife or contact the infant feeding team on sfh-tr.infantfeeding@nhs.net.
If you intend on formula feeding, or feel that you would like to have some formula milk with you in case you decide to formula feed once your baby is born, then you will need to bring this into hospital with you. Formula milk is not available to purchase anywhere on the hospital premises and can only be purchased off site at a supermarket or pharmacy.
We advise you to bring in one or two starter packs of formula that contains 6x 70ml bottles and 6x disposable teats.
These are sometimes hard to obtain due to a short supply in supermarkets, so we are happy for you to bring in small 70ml bottles or the 200ml bottle/cartons to use. These must be used within 24 hours of opening and any leftover milk would be discarded after this time. Staff will check the milk in the fridge daily to throw out milk past this date. Any larger cartons will result in a lot of wastage as babies only feed small amounts in the first few days
You will also need to bring in with you one or two of your bottles and teats so that you can decant your milk into these to feed your baby. We will provide you with a space to wash them after use and a sterilising tank for the duration of your stay.
If you have any questions please contact your community midwife
Cool facts and information about breast feeding. 
For contact details please see below:
Infant Feeding Specialist Midwife - Natalie Boxall - 01623 622 515 ext 6095
Lime Green Team: 01623 676170
Midwives Advice Line: 01623 676170
Out of Hours: 01623 655722
The infant feeding team offer weekly antenatal feeding classes which are small group live sessions hosted on Zoom, in these sessions you can ask questions and meet members of the feeding team who will be available for support after you have had your baby.  If you would like to attend a live session please email: sfh-tr.infantfeeding@nhs.net with your NAME and DUE DATE and they will respond with a class invite.
You can download the slides to the antenatal class presentation as a PDF file and there is also the option to download a printable notes hand-out which you could use to take notes as you watch.
If you do attend our antenatal classes we would really appreciate your feedback, you can complete a short survey which takes approximately 3-4 minutes to fill in. We want to hear from you and are always looking for new ways to improve our antenatal classes.
Survey link: https://www.surveymonkey.co.uk/r/VN33GFD
Focused pregnancy and postnatal information for Black, Asian and Mixed Ethnicity women (click the images below to open the document)
Local feeding support:
BABES breastfeeding peer support groups:
https://www.nottinghamshire.gov.uk/care/early-years-and-childcare/childrens-centre-service/supporting-children-and-families-to-be-happy-and-healthy
Notts Happy Baby Corner (NHS Community Infant Feeding page): https://www.facebook.com/NottsHappyBabyCorner/
'Watch your baby, not the clock' – Responsive feeding

Breastfeeding Network drug factsheets
Paced bottle feeding – there are lots of videos available on Youtube
First Steps Nutrition (Info on formula milks – hungry baby, stage 2, vegan milks)
Relationship building:
Safe sleep: