NHS National Staff Survey 2021 - A Great Place to Work, A Great Place to Receive Care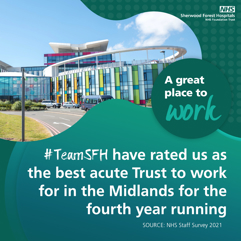 Our colleagues rated us as the second-best hospital Trust in the country and the best in the Midlands to work and best in the Midlands to receive care in the latest NHS Staff Survey.
This didn't happen by accident. At Sherwood Forest Hospitals we care about our colleagues and their wellbeing. We believe that a happier and more engaged workforce is able to offer better quality care to patients.
Eight out of 10 Sherwood colleagues said they would recommend Sherwood Forest Hospitals as a place to work.
More than eight out of 10 said they are happy with the standard of care provided if a friend or relative needed treatment.
Staff morale (6.4 out of 10) remains the best in the Midlands and among the best of any acute trust in the country, despite the ongoing impact of the pandemic and the pressures that NHS staff continue to face.
Ranked as the third most compassionate and caring acute trust in the country, with a score of 7.6 out of 10.
The majority of staff (83.9%) agree that the care of patients remains the organisation's top priority – a picture that continues to improve against surveys from before the pandemic.
Colleagues said in the survey that Sherwood Forest Hospitals is a great place to work and that our priority of looking after each other makes a difference. They said they feel supported and that positive action has been taken on health and wellbeing. Wellbeing is a priority at Sherwood Forest Hospitals and it is a golden thread that runs through everything that we do. We make sure that we always have practical solutions in place so that colleagues can access the help, support and advice they need.