Volunteer Rewards and Recognition
Volunteer rewards and recognition
National Volunteers Week 2018  
Celebrations took place throughout the Trust to recognise the work and contribution of the 593 volunteers who support staff over the three sites.
King's Mill Hospital
Staff thanked volunteers throughout the week at King's Mill Hospital for their ongoing support and work. Members of the executive team joined volunteers in the various departments.  The volunteers AGM was held on June 7th after which a celebration afternoon tea was served.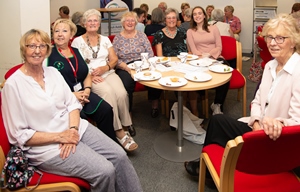 Newark Hospital
As part of our National Volunteers Week Celebrations, Newark Hospital volunteers enjoyed a thanksgiving service and afternoon tea at Holy Trinity Church & Partnership Centre.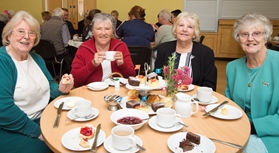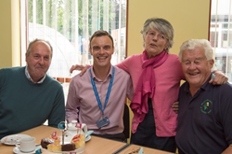 One year event for new volunteers
One year anniversary parties were held across the Trust for all volunteers recruited in the last 12 months. This enabled us to obtain valuable feedback on our services.
Volunteer Long Service Awards 2017
Events have been held across the Trust to acknowledge the Long Service of volunteers. 
On 5th October volunteers of Newark Hospital attended a presentation at Newark Town Hall.  Volunteers who have served between 5 and 30 years were presented with certificates and badges by the Mayor of Newark, Councillor Rita Crowe  and  the Chairman of Sherwood Forest Hospitals Trust, Mr John MacDonald.  
Pictured are  John MacDonald and Councillor Rita Crowe with recipients of 25 and 30 year awards. 
44 volunteers from King's Mill Hospital were recognised for their combined service of 455 years at a ceremony on 12th October.  The event was held at The Oakham Suite in Mansfield and the volunteers received long service awards ranging from 5  to 30 years.
Pictured are Linda Swann, Isabel Powney and Dorothy Bradford receiving their 30 year awards from Jill Smallwood, Chair of King's Mill Hospital volunteers and John MacDonald, Chair of Sherwood Forest Hospitals.
Mansfield Community Hosptial Volunteers held their Long Service Awards celebrations at The Oakham Suite on 24th October.  7 volunteers received awards recognising service from 5 to 40 years. 
Lynn Rowbottom is pictured receiving  her 40 year award from Ralph Stone, Treasurer of the League of Friends (Mansfield & Sutton) and John MacDonald, Sherwood Forest Hospitals Chair.