Maternity
Sherwood Forest Hospitals is launching Badger Notes on Thursday 17 November 2022.
Badger Notes is an online portal and app where you can access your maternity records on a tablet, smartphone or PC at any time of the day or night. You can also share them with your GP. It is similar to the NHS app.
The information you can see on the app is in real-time straight from the hospital-based maternity system, using details entered by your midwife or other health professionals involved in your care.
The new digital record system has a whole host of features, enabling service users to view extracts of information from their pregnancy record in real time and log key pregnancy events. 
When using the app, you can capture your choices of what you want to happen at each stage of your pregnancy, learn about your baby's development and access information recommended by your midwife. You can also submit thoughts or questions about antenatal and postnatal care, to review with your team at your next appointment.
The new digital system aims to improve the experience of expectant parents by increasing choice, personalisation and empowering you to take greater ownership of your maternity care.
It also makes it easier for healthcare professionals to share information and your maternity records because it is all in one place – for example if you are away from home and need to go to another hospital.
What are the benefits of using the app?
Information can be shared with you directly from the maternity system.

Records can be easily updated at each maternity visit or appointment.

Midwives do not have to enter data multiple times on paper handheld notes.

Only those with the correct login details are able to access the notes.
You can add information such as:
Details about you, including your occupation and any allergies.

Your plans and preferences for your care before, during and after your birth.

Feedback regarding your antenatal care, labour and birth experiences.
How can I access Badger Notes?
We are launching Badger Notes from 17 November 2022 and if you are pregnant and have been booked to have your first midwife appointment (booking), on or after this date, you can download the Badger Notes app before your appointment. Details of how to do this can be found below. At the appointment a passphrase will be given to you by your midwife to enable you to create an account. You will then be sent a verification text to your mobile.
Patients who are already in our services before the app is launched, will be offered Badger Notes from 17 November but their paper records will not be withdrawn.
Do I have to use Badger Notes?
No. It is completely your choice.
Is the system secure?
Yes. All information is held securely and cannot be accessed without the correct log-in details – similar to internet banking.
A video tutorial on how to download the Badger Notes app, create an account and use the key features can be found here.
Additional information
As this is a new system please be patient if there are any delays with the app while we all get used to it.
Changes to visitor guidance across Sherwood Forest Hospital sites
Sherwood Forest Hospitals has reviewed its visitor guidance to allow more friends and family members to visit loved ones across the trust's King's Mill, Newark and Mansfield Community Hospitals from Monday 25 April. ​
The new rules allow the following across all three sites:
Two visitors can visit each patient between 11.30am and 7.30pm each day

'Open visiting' for patients who are on end-of-life care, require a carer or have additional needs (such as a mental health condition or dementia)

Birthing partners are permitted to attend through pregnancy, birth and postnatal care

Parents are permitted to accompany children under the age of 18
Everyone visiting the Trust's hospitals are reminded that face coverings must continue to be worn in all healthcare settings, unless patients are exempt. Patients and visitors are asked not to attend if they have symptoms of COVID.
Patients attending the Trust's Emergency Department, Same Day Emergency Care and Emergency Assessment Unit (EAU) units are asked to attend alone to reduce overcrowding unless they are under 18 or require a carer.
The relaxation of guidance for visitors will be reviewed if Covid cases increase within either the trust's sites or the local community.
The Trust's staff appreciate the continued support and understanding of staff, patients and visitors as they continue to work hard throughout the pandemic.

All visitors will be expected to comply with existing social distancing and hand hygiene measures in addition to wearing facemasks while in the hospital setting. Please see more about this here.


Respect for people during your visit

We are an inclusive employer and we are proud of our highly skilled colleagues, who have a range of diverse backgrounds. We also care for a diverse group of patients. We do not tolerate physical or verbal abuse or any form of discrimination towards our staff or patients. This includes, but is not limited to, racism, homophobia, anti-religion and sexism. We will robustly manage any such incidents and, where appropriate, will involve the police.
What to do if you have a positive Covid-19 PCR test
All women who have a positive Covid-19 PCR test during their pregnancy or postnatal period are requested to inform their Maternity Department on Telephone No: 01623 655722. 
The purpose of this is to enable the maternity team to make contact with you to perform a full assessment over the telephone and plan some follow-up time over the next few weeks with the midwifery team. This is important as some women's health can deteriorate during this time.
This remote monitoring will support the team to identify women that are deteriorating early allowing for earlier hospital admission, care and intervention to improve outcomes for both mother and baby.
In addition, women need to self-isolate for 10 days and the household should follow the current government advice.​
When you first go into labour
When you first go into labour please contact the Sherwood Birthing Unit for advice. Our midwives will advise you of what to expect when you come in. Please feel free to ask as many questions as you need to whilst you are speaking to our midwives, as we know this will be an anxious time. 
If you are coming into our triage/assessment area your partner can accompany you into the hospital, but may be asked to wait outside triage during the initial assessment. This is because space is very limited in our triage area and we need to maintain social distancing. Sometimes women are able to go home again quite soon after this. 
When you are in labour, having a Caesarean section, or you need to remain on the Sherwood Birthing Unit for another reason, your birth partner is welcome to join you. Please do not bring anyone else into hospital with you, including children
Induction
If you are coming in for induction of labour, your birth partner is able to attend with you, even if this lasts over a number of days. Your partner can remain with you when you move from the induction suite onto Sherwood Birthing Unit. 
After the birth
After your baby is born, including if you have a Caesarean section, you and your birth partner will have some private time together on the Sherwood Birthing Unit. This is usually a few hours. You may be able to go home together from here, and we would encourage you to do this if possible.

Alternatively, mum and baby will be transferred to the maternity ward.  
Birth partners who wish to visit our maternity ward will be asked to visit during the following times:
11.30am – 7.30pm 
All birth partners must wear a surgical face mask during their visit which will be provided by the Trust. If they are exempt from wearing a face mask a visor which is provided by the Trust needs to be worn.
In order to keep everyone safe and limit the footfall and excessive movement of people around the ward, birth partners are asked if they leave the ward during their allocated visiting slot, to not return until their visiting slot the next day. If you leave the ward during your visit you will not be permitted back onto the ward until the next day. We are also asking visitors to stay by the bed of the person they are visiting in order to keep everyone safe. 
We hope you understand that we are doing our very best to manage visiting under difficult circumstances, whilst also keeping our patients, colleagues and visitors as safe as possible, please remember to be kind to our colleagues and treat them with respect, we are all doing our very best to help you and your family during the pandemic.  
Some policies may vary slightly at individual GP surgeries and where our own space is limited, particularly at Newark Hospital, in our Pregnancy Day Care area and in the triage area on Sherwood Birthing Unit. We may need to ask partners to wait for a short time elsewhere so that we can maintain social distancing.
If you are currently pregnant, planning pregnancy or breastfeeding and would like information regarding the Covid-19 vaccination click here
Discharge   
When you are discharged, your partner/family member is welcome to come and collect you. Our staff will help you and your baby to meet your partner at the door of the maternity ward. 
We are doing our very best to enable families to be together when their baby is born, whilst working to keep everyone safe during the pandemic. Please work with us during this challenging time to help keep everyone safe and provide the best possible care to our patients.
Early Pregnancy Assessment Unit
The Early Pregnancy Assessment Unit (EPU) is situated within the King's Treatment Centre. The Sherwood Women's Centre at Newark Hospital provides comprehensive facilities for antenatal and postnatal care, including ultrasound.
The maternity unit at King's Mill Hospital includes the pregnancy day care unit, antenatal clinic, maternity ward (antenatal and postnatal), the Sherwood Birthing Unit and the neonatal unit. The Early Pregnancy Assessment Unit (EPU) is situated within the King's Treatment Centre. The Sherwood Women's Centre at Newark Hospital provides comprehensive facilities for antenatal and postnatal care, including ultrasound.
We offer a choice of packages of care and birthing options:
Midwife led care
Maternity team care
Home birth
Hospital birth
Pool birth
You will be able to discuss these options with your midwife, and consultant (if you have one). Our midwives and doctors provide 24-hour care for the full range of maternity services - during pregnancy, labour and after the birth. 
We are committed to supporting women who chose to breast feed and have accreditation under the UNICEF Baby Friendly Initiative. Our Infant Feeding Team provides dedicated support and guidance to mothers who choose to breastfeed.
We also offer the baby hearing test service for your baby before you go home.
Ongoing support once you are home with your baby is provided by your named Community Midwife. Before you leave the hospital or before the midwife leaves your home, if you have had a home birth you will be informed how to contact a midwife should you need one out of normal visiting hours. Visits will take place between 9am-5pm.  Subsequent visits will depend on the individual needs of yourself and your baby and will be arranged following discussion with you.
The Sherwood Women's Centre at Newark Hospital provides comprehensive facilities for antenatal and postnatal care, including ultrasound.
Visiting hours for the Birthing Unit and Maternity Ward:
You are now able to bring two birthing partners with you whilst you are a patient on the birthing unit (your birthing partners must remain the same 2 people throughout your stay). Two birthing partners may also visit the Maternity ward between 11.30am and 7.30pm. Individual plans will be put in place with some families outside of these hours if required. Thank you for your understanding.

Telephone: 
Emergency Midwife for King's Mill and Newark  01623 655722 
Sherwood Birthing Unit at King's Mill  01623 672244 
Maternity Ward at King's Mill  01623 672242 
Sherwood Women's Centre at Newark Hospital  01636 685779
Community Midwife Advice Line (Monday to Friday 9.30am - 4.30pm)  01623 676170
If you are unable to view the maternity services video above please click here to view on the Trust's YouTube channel.
#movementsmatter
We are proud to support the new campaign led by Tommys and Kicks Count, #movementsmatter, which challenges dangerous myths about baby movement during pregnancy. A short, impactful video has been developed in collaboration with clinicians, charities, and pregnant women. Please follow the link below to the NHS England website where you can also follow a further link to the video on YouTube.
https://www.england.nhs.uk/ourwork/futurenhs/mat-transformation/saving-babies/
Nottingham and Nottinghamshire Maternity Voices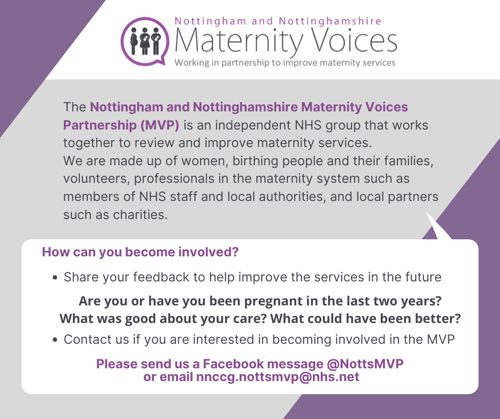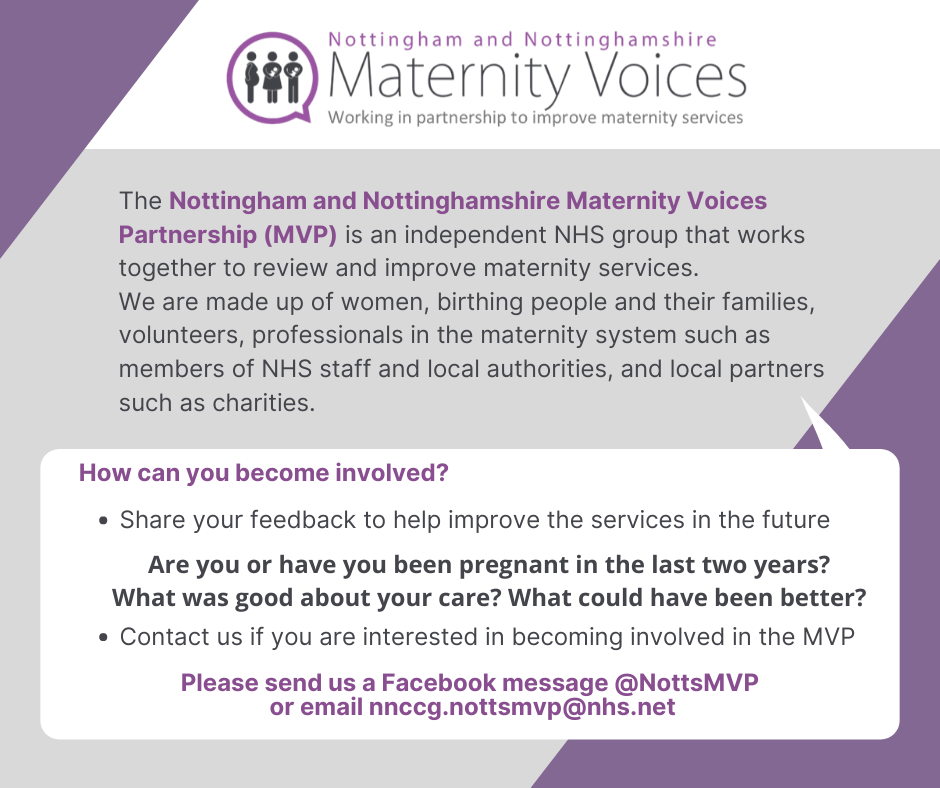 Patient Information Leaflets
Please click here to access our maternity patient information leaflets