Little Millers Day Nursery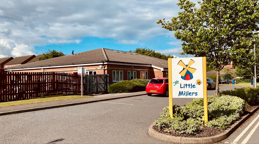 Little Millers Day Nursery, which is rated good in all areas by Ofsted, is part of the Sherwood Forest Hospitals NHS Foundation Trust
The nursery is located in a purpose-built, single storey building on the King's Mill Hospital site in Sutton-In-Ashfield, Nottinghamshire. The nursery is run by the trust and is not outsourced to an external provider.
The nursery provides care for up to 96 children, aged from six weeks to eight years – including the children of many Sherwood Forest Hospitals Trust's own staff. Children are grouped according to their age and each age range has their own room base.
Little Millers Day Nursery is open Monday to Friday from 7.30am to 5.30pm and can be used by NHS employees and the public. Holiday care is also available by arrangement for children between the ages of five to eight years.
You can find the report following the most recent Ofsted inspection of Little Millers in July 2022 on the Ofsted website.
In addition to supporting children with special educational needs and/or disabilities, Little Millers also welcomes children and families who speak English as an additional language.
For more information and to discuss joining the Little Millers family, please contact Samantha Wyatt, the Deputy Nursery Manager at Little Millers, by calling 01623 622 515 extension 3885 or email samantha.wyatt2@nhs.net