Home >
News >
2018 >
April >
Staff celebrate more than 1,700 years of service at Sherwood Forest Hospitals
Staff celebrate more than 1,700 years of service at Sherwood Forest Hospitals
Posted Wednesday, July 18, 2018 9:56 AM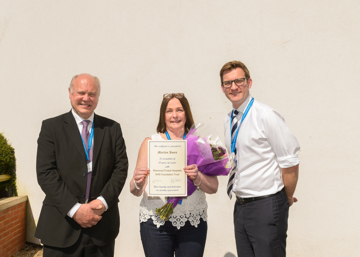 Staff who have clocked up a staggering 1,750 years' worth of service between them were honoured today at Sherwood Forest Hospitals' annual long-service awards.
More than 70 members of staff who have reached key milestones were commended and thanked for the contribution they have made over the years to patient care.
The Trust's Chief Executive, Richard Mitchell, and Chair, John MacDonald, presented staff with a commemorative certificate and pin badge as a token of the Trust's appreciation at a ceremony held at King's Mill Hospital, which was followed by a buffet.
One of the award winners was Clinical Typist Marilyn Jones, who has worked at the Trust for 45 years. Marilyn first started working at what was Mansfield General Hospital in September 1972. At the same time, Rod Stewart was at number one with 'You Wear it Well', BBC quiz programme Mastermind was first broadcast and the school leaving age in England and Wales was raised to 16.
She said: "It's been an absolutely lovely day and it has made me feel so special and appreciated to be recognised, especially when my award was announced and was described as 'an amazing 45 years'.
"I first started working at Mansfield General Hospital in 1972 and then when I had my son 28 years ago I decided to take a five-year career break. That lasted just nine months and I came back to work in a role at King's Mill Hospital, where I've been ever since.
"The Trust has been a fantastic place to work and has always been accommodating throughout my time here, especially when my three children were younger. I've seen lots of changes during my time and it really is a great place to work."
Chief Executive, Richard Mitchell, said: "It's a great honour to present these awards to some of our incredible staff and thank them on behalf of the Trust. Our staff are the lifeblood of our organisation and we want to recognise staff who show commitment and dedication to the work they do.
"Some of the people receiving awards today have dedicated all of their working life to Sherwood Forest Hospitals and supporting patient care, which is absolutely outstanding and is something I am truly grateful for.
"Everyone who received an award today should be very proud of themselves. We know that so many of our staff are committed to the work they do and it is important we support them in their roles. I look forward to giving out these awards at future ceremonies and watching as staff move through the milestones with pride and appreciation."
More than 70 members of staff were recognised at the event for reaching milestones of five, 10, 15, 20, 25, 30, 35, 40 and 45 years