Covid – 19 Vaccination information
Posted Tuesday, December 15, 2020 4:14 PM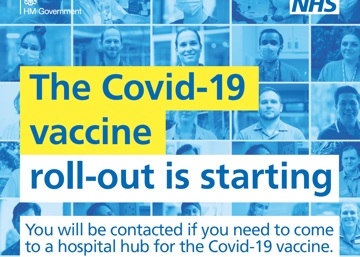 In line with the JCVI guidance, Sherwood Forest Hospitals, King's Mill Hospital Vaccination Hub is providing Covid-19 vaccinations for people in the latest vaccination cohorts, whilst continuing to also provide protection for frontline health and care workers. If you are eligible you can visit a number of walk-in vaccination centres across Nottingham and Nottinghamshire, more information can be found here. Or you can book online via the national booking site or you can call 119. 
If you would like further information on the COVID-19 vaccination, please visit the NHS website here https://www.nhs.uk/conditions/coronavirus-covid-19/
For all the latest information about the rollout of the Covid-19 vaccination in our area please visit the Nottingham and Nottinghamshire Clinical Commissioning Group website here.
Our King's Mill Hospital site is one of the 50 hospital hubs that is taking part in the national vaccination programme and we continue to vaccinate those in the eligible cohorts against Covid-19.
If you have been invited for a vaccine click here for directions to the vaccination centre.
How can you help?
The public have an important part to play to help with the roll out of the vaccination programme:
Please don't contact the NHS to seek a vaccine, we will contact you;
please don't come onto site in the hope of receiving a vaccination. We cannot help you unless you have an invitation to receive a vaccine and a booked appointment;
when we do contact you, please attend your booked appointments;
please come alone to your vaccination appointment unless you require a carer.
Please also continue to follow all the guidance to control the virus and save lives. It is still important that we wash our hands regularly, keep on social distancing and wear face masks where required.
If I have already had Covid should I get vaccinated?  
Yes, if you are in a priority group and have been invited for a vaccination. The MHRA have looked at this and decided that getting vaccinated is just as important for those who have already had Covid-19 as it is for those who haven't. 
Is the NHS confident the vaccine is safe? 
Yes. The NHS will not offer any Covid-19 vaccinations to the public until independent experts have signed off that it is safe to do so.  
The MHRA, the official UK regulator, has said this vaccine is safe and highly effective, and we have full confidence in their expert judgement and processes.  
As with any medicine, vaccines are highly regulated products.
There are checks at every stage in the development and manufacturing process, and continued monitoring once it has been authorised and is being used in the wider population.     
How effective is the vaccine? How long does it take to work?
The MHRA has said this vaccine is highly effective, but to get full protection people need to come back for the second dose – this is really important. 
Full protection kicks in around a week or two after that second dose, which is why it's also important that when you do get invited, you act on that and get yourself booked in as soon as possible.
Chief Nurse, Julie Hogg said: "I am pleased that King's Mill Hospital has been selected as a hospital hub for the Covid-19 vaccination programme. 
"We are working with our regional partners to ensure we can vaccinate those with most need as outlined by the Joint Committee on Vaccination and Immunisation (JCVI).
"These vaccines are safe and effective for the vast majority of people – they have been tested on tens of thousands of people and assessed by experts. We have processes in place to ensure that they are being delivered safely."
"I would like to remind people that they should not come to the hospital for a vaccine, and that we will contact people to arrange an appointment when they need to attend. 
"Vaccination is only one step in the fight against Covid-19 and we all still need to remain vigilant and follow the Covid restrictions and continue to socially distance, wear face masks and wash our hands regularly."
What should I do if I have anaphylaxis allergic reactions, can I have the vaccine?

If you have a history of onset-anaphylaxis or an unexplained anaphylaxis reaction you should not be vaccinated with the Pfizer BioNTech vaccine. You can have the AstraZeneca vaccine instead (if not otherwise contradicted by a medical professional).
What do I do if I have an itchy skin reaction/hives after having my first dose of the vaccine?

If you have had a localised itchy skin reaction (without systemic symptoms) to the first dose of a Covid-19 vaccine, you should receive the second dose of the vaccine with a prolonged observation (30 minutes instead of 15 minutes) in a setting where there are full resuscitation facilities (for example a hospital). If you have had this kind of reaction you are advised to have your second vaccination at a hospital hub.
More information about the Coronavirus (COVID-19) vaccine roll out in Nottinghamshire can be found here