Home >
News >
2018 >
July >
Students design creative posters to encourage people to sign up to the organ donation register
Students design creative posters to encourage people to sign up to the organ donation register
Posted Wednesday, July 18, 2018 10:32 AM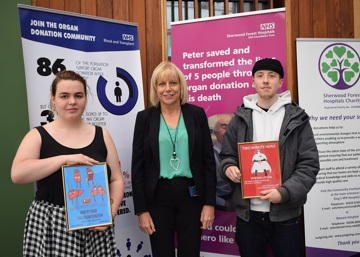 Sherwood Forest Hospitals joined forces with Nottingham College Access to HE Diploma in Media & Journalism students recently to produce a range of designs for the 2018 Organ Donation campaign posters.
Students were set a live design brief to create an eye-catching and engaging poster, with the theme 'Give and let Live' to encourage people to sign up to the national organ donation register.
Posters were then entered into the Sherwood Forest Hospitals poster competition, which saw more than 15 people entering a variety of designs and concepts.
Organ Donation Committee Chair, Shirley Higginbothamsaid: "It was brilliant to receive so many poster designs. Entrants clearly understood the concept that we wanted and they produced some really high quality designs. It was hard to decide a winner and runners up from the quality that we received, but in the end the winner shone through and we made a clear decision, as the design is fun, clear and eye-catching and relates to a wide target audience."
She added: "Anyone can choose to be on the organ donation register from the age of 18 onwards, so we needed a poster that attracted the attention of everyone, which the winner produced. Thank you to everyone who took part in the competition we really appreciate your time and efforts."
The winner of the poster competition was Nottingham College student, Jenny Strong, who received a prize of £50 in Amazon gift vouchers, second prize went to Nottingham College Student Caleb Perry-Bradburn who received £25 in Amazon gift vouchers and third prize went to Nottingham College Student, Flexible Quarm, who received £15 in Amazon gift vouchers.

Course leader for Access to HE Diploma in Media & Journalism, Chris Coldbeck said: "It is always a great opportunity for our students to get the chance to produce work that may be used in a real life setting, so when the Trust approached us we thought it would be an engaging brief to set and good for students to work to a real life brief from the industry."
Winner of the poster competition Jenny Strong, 21, from Nottingham, said: "It was a great brief to be set and I really enjoyed designing the characters for it. My work has never been showed anywhere, so to have it displayed in the hospital as part of the campaign is amazing. It was brilliant to get this opportunity."
All poster entries will be showed during Organ Donation Week which runs 4 – 10 September.
The winning poster will be enlarged and used throughout Sherwood Forest Hospitals sites at King's Mill Hospital, Mansfield Community Hospital and Newark Hospital.