Sherwood Forest Hospitals to celebrate NHS70 in style
Posted Wednesday, July 18, 2018 10:22 AM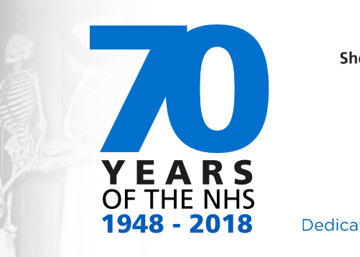 Sherwood Forest Hospitals will join Trusts across the country to celebrate the NHS turning 70 years old on 5 July. A number of events have been planned across all three sites at the Trust – Newark Hospital, Mansfield Community Hospital and King's Mill Hospital.
NHS70 decorations
Thanks to the efforts of Sherwood Forest Hospitals Trust Charity all three sites will have their entrances decorated to help celebrate NHS70.
Wishing the NHS a happy birthday on social media
Staff have been filmed to take part in a video to wish the NHS a happy birthday for NHS70. Look out for this on social media on the 5 July and please feel free to like and share.
Look out for our NHS70 media coverage
Sherwood Forest Hospitals was included in the first episode (aired on Tuesday 26 June) in a special NHS70 series that has been produced by BBC East Midlands Today.

The Mansfield and Ashfield Chad are running a special double page spread on Wednesday 4 July which has 70 people celebrating what they love most about Sherwood Forest Hospitals and working for the NHS.
The Newark Advertiser will also be featuring NHS70 in its edition on 5 July and seven stars from Newark in its edition on 12 July.
NHS70 Special Service – 1 July
A special service to celebrate 70 years of the NHS will be held in the Faith Centre at King's Mill Hospital on 1 July at 6pm. The service will reflect on 70 years of the NHS.
The regional Baptist Minister, Mike Fedgredo will also be there to perform the official commissioning of the Sherwood Forest Hospitals chaplaincy team.  
Big70Tea Party
A Big70Tea Party will be happening across all three of our hospital sites, with our voluntary services cafés providing a free hot drink and cake for all NHS staff on Thursday 5 July. Staff can just come along to the voluntary services cafes with their ID badge to get a free hot drink and cake.
Asda have also kindly donated cakes for the occasion and these will be used to ensure that colleagues providing out of hours services will also be treated to a free cake.
At Newark Hospital a celebratory cake will be cut by the Town Mayor Cllr Roberts and previous Newark Surgeon, Mr Maheson. Staff have also been invited to join the Friends of Newark Hospital for coffee and cake from 10am – 11am.  
Could you walk 30 miles to help hospital achieve £550,000 appeal target?
A Sherwood Forest Hospitals governor is helping to raise funds for the King's Mill Hospital Gamma Scanner Appeal by putting on his boots and walking almost 30-miles – and the public are being encouraged to join him!
Keith Wallace, who is the hospital's Governor for the Mansfield area, will call at all three of the Trust's hospitals during the sponsored walk, which will take place on the 70th birthday of the NHS on Thursday 5 July. He will start in the morning at Newark Hospital, making his way to Mansfield Community Hospital before finishing at King's Mill Hospital in Sutton in Ashfield around 12 hours later.
Keith, who is a qualified walk leader and runs the local On Your Doorstep Walking Group, is hoping to raise more than £2,000, which will go towards helping the Trust to buy a new gamma scanner to help diagnose illnesses such as cancer much more quickly.
But you can get involved too! The walk has been broken down into three 10 mile sections so that the public and hospital staff of all abilities can join in. You can either walk the full distance, or just one of the sections.
The appeal, which is being run by the hospital's charity, aims to raise £550,000 over the next 12 months to fund a new gamma scanner with CT scanning technology for the nuclear medicine department at the hospital. It will enable more than 2,000 patients each year to have advanced scans and revolutionise how they are diagnosed and treated.
Lighting King's Mill up blue
As part of the 70th birthday celebrations, buildings across England are lighting themselves up blue to symbolise the NHS birthday. King's Mill Hospital will be joining in by keeping its blue tower glowing bright and turning the others off. Look out for this if you are passing on the evening of 5 July.
SFH celebrates 70th Volunteer joining the team
Sixteen year old Emily Procter is our 70th Volunteer in the 70th year of the NHS and has followed in the footsteps of her grandmother, Val Caunt, who has been volunteering at King's Mill Hospital since 2005 on the trolley service and in the Community Involvement Hub. Emily will be helping in the Daffodil Café on Saturdays.
Call the Midwife cake stand
On the 5 July our midwives will be in the KTC at King's Mill Hospital from 10am – 2pm selling cake to raise money for the gamma scanner appeal.
Midwives will be dressed up in their 1950's uniforms, will be playing 50's music and will also have games such as guess the weight of the baby.
Maternity celebrations on the ward
On the Maternity wards (Special Baby Unit and Maternity) a Mothercare hamper will be given to the first baby born on the 5 July and all babies will be getting a teddy all of which has been kindly sponsored by Sherwood Forest Hospitals Unison branch.
Maternity will also be presenting all babies born on the NHS birthday with the NHS 10p coin from the Royal Mint in recognition of NHS70, as per the tradition of giving a new baby a silver coin or money on their birthday.
NHS70 at Newark Hospital 
The Community Involvement Team have planned a coffee morning celebration in conjunction with the Friends of Newark Hospital.  This will take place in the glass corridor and courtyards between 10 and 11am for staff, patients and visitors to commemorate this special date. Our community colleagues at Asda and the League of Friends have very kindly offered to supply some cakes and refreshments for this event. 
The Town Mayor, Councillor Tony Roberts will be in attendance to cut the celebration cake alongside Mr Vallipuram Mahesan who was a general surgeon at Newark Hospital for many years and has been invited as a special guest. We appreciate that some staff will struggle to leave their working areas, so we will ensure some cakes are delivered on the day. 
A display of Newark NHS care throughout the years is also being planned, with some fantastic items from years gone by due to be displayed.
Urgent and Emergency Care NHS70 celebrations
The SFH Urgent and Emergency Care division is holding an event to celebrate the work done by staff across the division. They will be holding the NHS70 celebration event on 4 July with food, bunting, prizes and cake!
Celebrating 20 years of Pain Management Programmes in the Back Pain Unit
It's not quite 70, but the Back Pain Unit at King's Mill Hospital will be joining in with celebrations, as they are 20 this year!

Living with persistent pain can be a huge challenge and in 1998 the Back Pain Unit was set up to help patients living with persistent pain. The first Pain Management Programmes began in June 1998 and the programme continues to remain popular and helpful.

Our multidisciplinary team based in Clinic 9 includes physiotherapists, occupational therapists, specialist pain nurses, clinical psychologists and technical instructors. The King's Mill interprofessional programme is one of only three registered in the East Midlands region, and we are proud to be able to offer this specialist service for north Nottinghamshire.

Over the past 20 years the team has run more than 150 group progammes and the team has put together a timeline of their history and development, along with some information about the current service. This will be on display in the KTC outside Clinic 9 during the NHS's 70th Birthday and for the following week. Please come and join the team at the stand for some cake to help celebrate this milestone with them.


NHS70 celebrations on our children's ward
To join in with our NHS70 celebrations Ward 25 will be holding a childrens' birthday party on 5 July to help celebrate.

The party will be held on the ward from 11am to 1pm with a range of things happening including a magician, a paw patrol mascot, face painting, a balloon maker, party games and cake. Look out for celebrations on our social media accounts. 
Human Resources NHS70 celebrations
Our Human Resources Department is holding a tea party on 5th July 2018 to celebrate the NHS70 birthday. There will be food, bunting, balloons, a NHS quiz and cake!