Home >
News >
2018 >
June >
Staff at Sherwood Forest Hospitals learn Makaton and open up a world of communication for little patients
Staff at Sherwood Forest Hospitals learn Makaton and open up a world of communication for little patients
Posted Wednesday, July 18, 2018 10:19 AM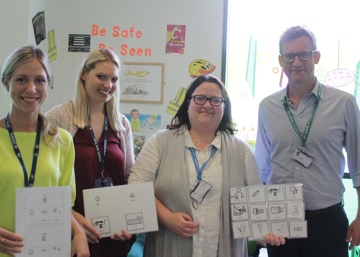 Staff who work on the children's ward at Sherwood Forest Hospitals have been learning new ways to communicate with some of the hospital's youngest patients by taking part in Makaton sign language sessions.
The sessions are being held for any interested staff in the department and are run by two speech therapists from Nottinghamshire Healthcare, the county's mental health, intellectual disability and community health provider, who have volunteered their time to teach the communication skill at the Trust.
Makaton was designed to provide a means of communication amongst children with learning disabilities through signs, sounds and graphics to help them communicate with other children and adults. A lot of the signs are based on British Sign Language but are simplified.
Sessions have been arranged at King's Mill Hospital by Dr.Vicki Walker, Consultant Paediatrician, after staff who work with children expressed an interest in learning the skill to help them communicate with children and young people who do not have verbal skills.
She said: "Makaton is a form of communication lots of children use in the pre-verbal age group, children who have limited or no verbal language and also in situations where the child is upset or overwhelmed and struggling to express themselves with words.
"Our paediatric colleagues were really keen to learn Makaton so they have another way to communicate with our patients and make their experience easier. They have completed the session in their own time and it's with thanks to Katy, Rachel and Jennifer, our Speech Therapists from Nottinghamshire Healthcare, who have volunteered their time out of hours that we have been able to offer these fantastic sessions."
Children's Ward Sister, Sarah Limb, attended one of the sessions. She added: "I found the session really useful as we learnt some basic signs that are really useful in our setting such as nurse, medicine, doctor and how to spell out our names using our fingers. We also learnt how to talk about animals and toys, which helps us to chat to the children easily and help them to feel comfortable. It also means we are able to recognise when a child is signing to us that they are in pain or upset.
"A lot of the children we care for on our ward use Makaton, including children that don't have any issues themselves with communication as it's something that they learn at nursery or school, so as staff it's really nice that we can help them to feel that little bit more special and understood."
Katy Stolc, who is one of the Speech and Language Therapists delivering the training, said: "As Speech and Language Therapists we use signs and symbols to support the communication skills of the children that we work with. Signs and symbols not only offer children an additional or alternative way to communicate if they are struggling to communicate verbally, but they also support their understanding of what is happening around them.
"Visiting hospital whether it is for an outpatient appointment or for an inpatient stay can be extremely distressing for the children that we work with as they do not always understand what is happening. They are often unable to communicate how they are feeling. It is fantastic that so many staff from the Children's Ward have accessed the sessions so far and have been enthusiastic about using signs and symbols as part of their job roles in the hospital."
Two sessions have already taken place, one of which was during Learning Disability Week. This year's focus for Learning Disability Week was health and how simple changes in hospital care can make a big difference. Makaton training is just one of the ways that Sherwood Forest Hospitals is making a difference.
The Children's Ward plans to choose a sign each week to be the 'sign of the week' to help staff to practice with the youngsters on the ward. It is hoped that the training will also be rolled out to doctors and other clinical staff across the Trust who work with children.