Staff Excellence Awards winners announced
Posted Saturday, November 10, 2018 9:38 AM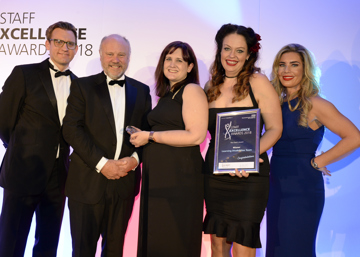 Eighteen of our inspirational individual members of staff, volunteers and teams have been recognised for the outstanding care and service that they deliver at our annual Staff Excellence Awards on Friday 9 November.
 
The awards celebrate individual members of staff, teams, and volunteers who go above and beyond the call of duty and who have had a positive impact on our services, patients, visitors and colleagues.
The full list of winners is:

Communicating and Working Together
Individual
Tania Willets – Deputy Ward Leader, Ward 25
Runners-up: Alison Bird – Deputy Department Leader, Endoscopy, Nathan Watson – Clerical Support, Discharge Team
Team
Sconce Ward
Runners-up: @SFHMaternity – Maternity Twitter Team, Flu Team (Occupational Health)
 
Aspiring and Improving
Individual
Jill Russo – KTC Reception Coordinator
Runners-up: Natalie Bradbury – Deputy Sister, Emergency Department, Stephen Allison – Finance Systems Manager
Team
Pharmacy – Dedicated Ward Project Team
Runners-up: Neurological Outpatients Therapy Teams (Mansfield Community Hospital and Newark Hospital), Occupational Health

The Kate Granger Award for Respectful and Caring
Individual
Ryan Inumerable – HPB Cancer Nurse Specialist
Runners-up: Helena Clements – Divisional Clinical Chair, Women and Children's, Pippa Green – Therapy Assistant
Team
Learning Disabilities Team
Runners-up: Day Case Unit (King's Mill Hospital), Snowdrops and Butterflies – Baby Bereavement Support Group

Efficient and Safe
Individual
Richard Clarkson – Lead Nurse/Head of Service, Emergency Department
Runners-up: Andrea Rumsby – Deputy Ward Sister, Ward 25, Debra Farn – Department Leader, Children's Outpatients, Denise Guzdz – Clinical Governance and Patient Safety Advisor
Team
Breast Team
Runners-up: Emergency Assessment Unit, Ward 31

Volunteer of the Year Award
Newark Outpatients Refreshment Bar
Runners-up: Alison Tomlinson, Keith Wallace, Sheila Borrill

Chris McFarlane Award For Training and Development
Ward 51
Runners-up: Lindsey Walters – Assistant Practitioner, Recovery, Teresa Shaw – Preceptorship Support Nurse
 
Sean Lyons' Cup for Most Improved Team
Safeguarding Team
Runners-up: Antenatal Diabetes Clinic, Maternity Department

Rising Star
Shana McCullagh – Senior HR Assistant
Runners-up: Abbey Needham – Staff Nurse, Ward 34, Mae Therese Ramos – Staff Nurse, Sconce Ward
Non-Clinical Services Award
Individual
Rachel Duckmanton – Therapy Secretary
Runners-up: Alan Franks – Diet Chef, Claire Smith – SEXions Personal Advisor
Team
Case Notes and Medical Records Teams – Newark Hospital and King's Mill Hospital
Runners-up: Gynae Secretaries, Training, Education and Development Administration Team

The People's Award
Steve Jones – Haematology Consultant
Runners-up: Gaye Summers – Health Care Assistant, Mel Johnson – Community Midwife
Star of the Year - Clinical
Danny Jones – Deputy Charge Nurse, EAU
Runners-up: Chantelle Holland – Staff Nurse, Critical Care, Donna Hall – Health Care Support Worker, Edwin Sum - Occupational Therapist, Kathryn Nuttall – Ward Sister, Ward 14, Laura Purnell – Occupational Therapist, Lisa Culley – Maternity Health Care Support Worker, Newark Urgent Care Centre Nursing Staff, Sarah Roberts – Staff Nurse, Neonatal, Sue Wilkinson – Stroke Rehabilitation Assistant, Victoria Pashby – Specialist Physiotherapist, Newark Hospital
Star of the Year – Non-Clinical
Diane Barsby – Post Room Assistant
Runners-up: Claire Mee – Rheumatology Support Officer, Hazel Fletcher – PPC, Vascular Surgery, Jacqueline Lee – PPC Team Leader, Jane Beard – General Office, Mansfield Community Hospital, Melanie Edgar – PPC, Newark Hospital, PPC Co-ordinators – Community Paediatrics, Sarah Bingley – PPC, Rheumatology, Sian Hollingworth – PPC, Cardiology, Sue Widdison – Ward Clerk, Ward 24, Vicki Elms – Clinical Services Admin Support

Chair's Award for Excellence
Learning Disabilities Team
 
Our huge congratulations go out to all winners and runners-up and thanks to our sponsors; Sherwood Forest Hospitals Charity, Central Nottinghamshire Hospitals plc, Skanska, Medirest Allocate Software and Touch Design, whose support made the event possible.