Nursing recruitment day planned for Newark Hospital
Posted Monday, October 8, 2018 2:23 PM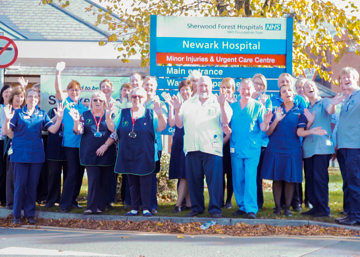 As part of a recruitment drive to attract more registered nurses to work at Newark Hospital, there will be a dedicated nursing assessment day on 18 October.
Registered nurses and health care assistants are being encouraged to join the team to help Sherwood Forest Hospitals Trust to become an outstanding organisation.
Internal staff will also be able to learn more about the Nurse Bank system on the day, where they will be able to sign up to the bank ahead of Christmas.
The assessment day will be held in the Board Room and Library Meeting Room at Newark Hospital from 1pm – 4.30pm.
Matron for Newark Hospital, Adele Bonsall said: "We are a really friendly and supportive team here at Newark and we are really keen to get the right people in place as soon as we can. The idea of the assessment centre is to make the application and interview process really easy, so people can come in, meet the teams they will be working with, do any maths or English assessments they need to do and then walk out with a provisional offer of employment from us at the end of the day. We are really excited about offering these opportunities and we can't wait to meet our applicants."
For more information about the nursing assessment centres please visit http://jobs.sfh-tr.nhs.uk/job and search in the Nursing and Midwifery section.