Sherwood Forest Hospitals announces staff awards shortlist
Posted Monday, October 22, 2018 2:28 PM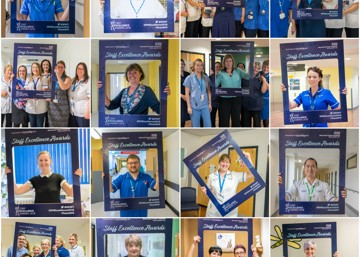 The final shortlist for this year's Sherwood Forest Hospitals Staff Excellence Awards has been announced.
More than 560 nominations were received from staff, patients and visitors, for both teams and individuals, in a number of categories, including a special category in for patients to nominate in.
The People's Award was open to patients, visitors and the public to nominate a member of staff or a team that they feel has gone above and beyond during their care or the care of a loved one at King's Mill Hospital, Mansfield Community Hospital or Newark Hospital.
The judging took place last month and included members of the Board of Directors, Foundation Trust Governors, Staff Side representatives, representatives from the media and SFH staff.
Chief Executive, Richard Mitchell, said: "We received a record number of nominations from staff and the public this year. That's fantastic! Thank you to everyone who took the time to complete a nomination form as it will mean so much to the person or team nominated.
"I know that the judges had a tough decision choosing the shortlist this year and they commented that the quality was yet again very high. All teams and individuals that were nominated should take pride in the fact that a colleague or a patient has taken the time to nominate them for the care or service they provide. I am writing to every single person who was nominated to let them know and to thank them personally for their commitment to SFH.
"I am proud of the hard work and dedication shown by all staff across our hospitals and I would like to thank all of you for your support over the past 12 months and for contributing to our latest 'Good' CQC rating.  I'm really looking forward to the awards event and to celebrating with those of you who have been shortlisted."
Winners will be announced at an awards ceremony and dinner on the evening of Friday 9 November at the John Fretwell Sporting Complex.
The shortlist is as follows:
Communicating and Working Together
Individual
Alison Bird – Deputy Department Leader, Endoscopy
Nathan Watson – Clerical Support, Discharge Team
Tania Willetts – Deputy Ward Leader, Ward 25
Team
@SFHMaternity – Maternity Twitter Team
Flu Team (Occupational Health)
Sconce Ward
Aspiring and Improving
Individual
Jill Russo – KTC Reception Coordinator
Natalie Bradbury – Deputy Sister, Emergency Department
Stephen Allison – Finance Systems Manager
Team
Neurological Outpatients Therapy Teams (Mansfield Community Hospital and Newark Hospital)
Occupational Health
Pharmacy – Dedicated Ward Project Team
The Kate Granger Award for Respectful and Caring
Individual
Helena Clements – Divisional Clinical Chair, Women and Children's
Pippa Green – Therapy Assistant
Ryan Inumerable – HPB Cancer Nurse Specialist
Team
Day Case Unit (King's Mill Hospital)
Learning Disabilities Team
Snowdrops and Butterflies – Baby Bereavement Support Group
Efficient and Safe
Individual
Andrea Rumsby – Deputy Ward Sister, Ward 25
Debra Farn – Department Leader, Children's Outpatients
Denise Guzdz – Clinical Governance and Patient Safety Advisor
Richard Clarkson – Lead Nurse/Head of Service, Emergency Department
Team
Breast Team
Emergency Assessment Unit
Ward 31
Most Improved Team
Antenatal Diabetes Clinic
Maternity Department
Safeguarding Team
Non-Clinical Services Award
Individual
Alan Franks – Diet Chef
Claire Smith – SEXions Personal Advisor
Rachel Duckmanton – Therapy Secretary
Team
Case Notes and Medical Records Teams – Newark Hospital and King's Mill Hospital
Gynae Secretaries
Training, Education and Development Administration Team
Rising Star
Abbey Needham – Staff Nurse, Ward 34
Mae Therese Ramos – Staff Nurse, Sconce Ward
Shana McCullagh – Senior HR Assistant
People's Award
Gaye Summers – Health Care Assistant
Mel Johnson – Community Midwife
Steve Jones – Haematology Consultant
Chris McFarlane Award for Training and Development
Lindsey Walters – Assistant Practitioner, Recovery
Teresa Shaw – Preceptorship Support Nurse
Ward 51
Volunteer of Year
Alison Tomlinson
Keith Wallace
Newark Outpatients Refreshment Bar
Sheila Borrill
Star of the Year – Clinical
Chantelle Holland – Staff Nurse, Critical Care
Danny Jones – Deputy Charge Nurse, EAU
Donna Hall – Healthcare Support Worker
Edwin Sum - Occupational Therapist
Kat Nuttall – Ward Sister, Ward 14
Laura Purnell – Occupational Therapist
Lisa Culley – Maternity Healthcare Support Worker
Newark Urgent Care Centre Nursing Staff
Sarah Roberts – Staff Nurse, Neonatal
Sue Wilkinson – Stroke Rehabilitation Assistant
Victoria Pashby – Specialist Physiotherapist, Newark Hospital
Star of the Year – non-clinical
Claire Mee – Rheumatology Support Officer
Diane Barsby – Post Room Assistant
Hazel Fletcher – PPC, Vascular Surgery
Jacqueline Lee – PPC Team Leader
Jane Beard – General Office, Mansfield Community Hospital
Melanie Edgar – PPC, Newark Hospital
PPC Co-ordinators – Community Paediatrics
Sarah Bingley – PPC, Rheumatology
Sian Hollingworth – PPC, Cardiology
Sue Widdison – Ward Clerk, Ward 24
Vicki Elms – Clinical Services Admin Support
Thank you to all of our sponsors without whom this event would not be possible: Sherwood Forest Hospitals Charity, Central Nottinghamshire Hospitals plc, Medirest, Skanska, Allocate, and Touch Design.