Home >
News >
2018 >
October >
Sherwood Forest Hospitals is one of first NHS Trusts in country to introduce menopause campaign to help staff
Sherwood Forest Hospitals is one of first NHS Trusts in country to introduce menopause campaign to help staff
Posted Thursday, October 18, 2018 1:57 PM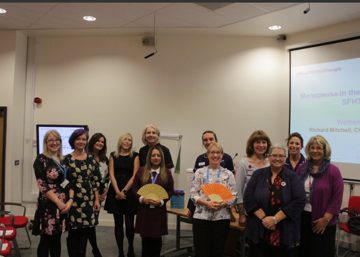 To coincide with World Menopause Day (18 October), Sherwood Forest Hospitals is launching its new campaign today to break the menopause taboo in the workplace and support female staff who are experiencing menopausal symptoms.
Four out of 10 women who work at King's Mill Hospital, Mansfield Community Hospital and Newark Hospital are over the age of 50, and with women living and working longer than ever before, it's likely that they will experience menopausal symptoms whilst still working. That's why Sherwood Forest Hospitals has worked with the Government Equalities Office Menopause Report Team and Henpicked: Menopause in the Workplace to put best practice in place – and it is one of the first hospital Trusts in the country to do so.
The campaign, #MenoPAUSE4Thought, kicks off today with line manager training and events for staff, supported by the launch of a new menopause guide. The events aim to normalise the menopause and change perception in the workplace, as well as raise awareness amongst staff and line managers, signpost to where they can get advice and make it easier for women to continue to work through symptoms.
Chief Nurse at Sherwood Forest Hospitals, Suzanne Banks, is leading the campaign. She said: "I am extremely passionate about how we support our female workers around issues surrounding the menopause. Menopause can still be considered a taboo subject, but this will start to change for us from today. We're encouraging everyone to talk about it openly, after all it's a natural phase in every woman's life and it's time that workplaces like ours understood that and put the right support in place for women that need it.
"The menopause, whether pre, during or post, can be varied in its impact, especially within the workplace and we want to raise awareness of it at work and support women that are struggling with symptoms. We need to remember that some of our most successful employees are female, but because they are now working into their 60s and the average age of menopause being around 51, they're battling with symptoms that can really affect them. We need to support these women and ensure that they can continue to work and feel happy at work. It's also important to remember this isn't just an issue for women, men should be aware too so they can support colleagues, friends and family, and our patients too.
"We're one of the first NHS Trusts to put best practice in place and to talk openly about menopause and I would encourage other employers to do the same."
The guidance document covers advice for staff and line managers around making life easier for those with symptoms at work, such as making simple adaptations like an extra fan or a desk by a window to help women suffering with hot flushes.
Deborah Garlick from Henpicked: Menopause in the Workplace, added: "We're absolutely delighted to see the phenomenal work Sherwood Forest Hospitals are doing. What they're doing will normalise the conversations around menopause and provide valuable support for those who need it. They've set a great example for all employers to follow, both in the NHS and wider. It's good for staff and good for their organisation, supporting an inclusive workplace, staff retention, performance and attraction."
The conference and guidance is just the beginning of the campaign and support events will continue regularly at the Trust's hospitals. To help understand the benefits menopause campaigns have on employees and employers, the Trust is also working in partnership with the University of Leicester, the University of Bristol and The Open University to launch a research programme, which some staff have opted to take part in. The research will help to inform future workplace campaigns.