Home >
News >
2019 >
Newark Hospital welcomes fruit and veg stall pitching up to offer a healthier way of life
Newark Hospital welcomes fruit and veg stall pitching up to offer a healthier way of life
Posted Thursday, April 18, 2019 7:40 AM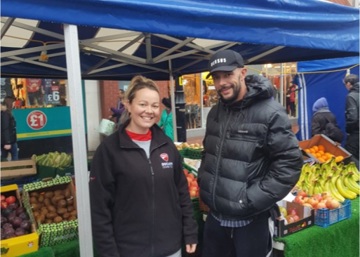 After the success of a fruit and veg stall outside King's Mill Hospital, Sherwood Forest Hospitals, the Trust that runs Newark Hospital, has decided to also set up a stall at Newark Hospital.
In a bid to encourage healthy eating for patients, staff and visitors, a brand new fresh fruit and veg stall will be pitching up outside the entrance of the Urgent Care Centre from Monday 29 April.
The stall will be run by local stand operators Laiten McGuigan and Roxanne Burrows both from Leicester, and will be open Monday, Tuesday and Thursday 9am – 4:30pm.
Laiten and Roxanne have been working on local markets for 20 years and still have a stall in Nuneaton. They have also worked at several hospitals over the past couple of years and after seeing how much of a success it was, they wanted to give King's Mill and now Newark Hospital the opportunity to have their excellent and affordable produce in an accessible place.
Laiten said: "It is great that we will be providing fruit and veg to local residents and offering them a healthy alternative, we are really looking forward to meeting our new customers at Newark."
Estates and Facilities Programme Manager for the Trust, Julie Dennis added: "We are really pleased that the stall has been so successful at King's Mill and we wanted to give staff, patients and visitors at Newark Hospital the same offering of healthy, affordable and local produce."