Home >
News >
2019 >
May 2019 >
Healthier Communities, Outstanding Care: Sherwood Forest Hospitals sets out its new strategy
Healthier Communities, Outstanding Care: Sherwood Forest Hospitals sets out its new strategy
Posted Wednesday, May 29, 2019 11:01 AM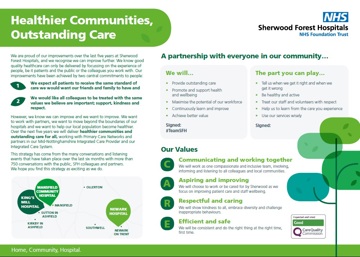 Improving the overall health and wellbeing of local communities and colleagues at Sherwood is central to the new five year vision set out by Sherwood Forest Hospitals NHS Foundation Trust in its strategy launched in April 2019.

The strategy which includes the vision of Healthier communities and outstanding care for all reflects the Trust's role as a provider of healthcare within the Mid Nottinghamshire health and care system. As well as the new vision, the strategy outlines five key strategic objectives:
To provide outstanding care
To promote and support health and wellbeing
To maximise the potential of our workforce
To continuously learn and improve
To achieve better value.
The strategy is the result of an extensive period of engagement with more than 750 conversations with members of staff, patients and visitors, and wider stakeholders.  It marks the next step for the Trust as it looks to continue in its improvement journey having been rated Good overall, and Outstanding for the care that it provides by the CQC in August 2018.

Richard Mitchell, Chief Executive of Sherwood Forest Hospitals said: "As a Trust we believe we have improved a great deal in recent years, and we want to get better still. Our new strategy was developed through many conversations with colleagues and other partners and I feel confident we have something that will support our improvement journey.

"The circumstances all public sector organisations are experiencing at the moment mean it is not sustainable to keep doing the same things we have always done. We must work more closely together and look at ways to improve the overall physical and mental wellbeing of everyone in our communities.
"I have seen many strategies developed in isolation from staff and patients and then they get left on a shelf and never used. I am confident our strategy is different and I feel very excited about delivering this over the next five years." 
The new Sherwood Forest Hospitals strategy and a two-page summary version are available on the Trust's website here.