Home >
News >
2020 >
Sherwood Forest Hospitals in the running for prestigious national award
Sherwood Forest Hospitals in the running for prestigious national award
Posted Monday, December 14, 2020 12:24 PM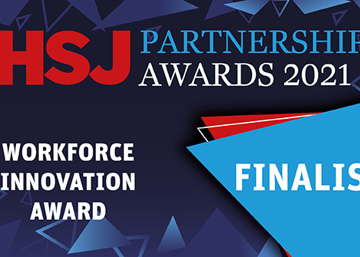 Sherwood Forest Hospitals NHS Foundation Trust (SFH) is celebrating after being shortlisted in the prestigious HSJ Partnership Awards 2021, recognising their outstanding dedication to improving healthcare and effective collaboration with the NHS.
In the shortlist announced today (Monday 14 December), SFH and Proud2bOps have been shortlisted for their partnership work in the Workforce Innovation Award.  Proud2bOps is a national network for operational managers and leaders across provider health and care organisations and hosted by SFH.
Following the most testing period for the healthcare sector in recent history, this year's awards reinstate the essential role of private and third sector organisations in strengthening the healthcare system.
Emma Challans, Director for Culture and Improvement at Sherwood Forest Hospitals and Proud2bOps Chair said:
"We are absolutely thrilled to be shortlisted for the Workforce Innovation category of this year's HSJ Partnership Awards for our work to provide a nationwide model of support and development for operational colleagues across Health and Care providers.  Effective operational leadership has been more important than ever this year, and the partnership working between Proud2bOps and Operational Leaders has helped champion these roles as a credible, highly respected and regarded career in health and care in 2020 and beyond.  I feel very proud of the network and our members."
The winners will be selected following a rigorous judging stage ahead of the HSJ Partnership Awards 2021 awards ceremony. The awards evening is expected to be attended by leaders and professionals from both the NHS and private sector, as well as figures from non-clinical backgrounds to celebrate innovation and collaboration in healthcare.
The full list of finalists for the 2021 HSJ Partnership awards can be found: https://partnership.hsj.co.uk/finalists-2021