Trust officially opens £2m Same Day Emergency Care Unit
Posted Friday, June 18, 2021 1:42 PM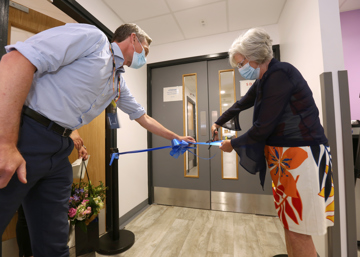 Patients who require emergency medical care will be able to be seen and treated within a day rather than being admitted overnight to hospital thanks to Sherwood Forest Hospital's brand new Same Day Emergency Care unit (SDEC).

The Trust officially opened its brand new £2m Same Day Emergency Care unit on Friday 18 June, which has been designed to enable more patients then previously to receive their care within a day rather than being admitted elsewhere within the hospital, improving patient experience and satisfaction as well as allowing beds to be freed up for the Trust's sickest patients. 
Patients can be referred to the Same Day Emergency Care unit by the Emergency Department, their GP, a hospital ward, outpatient clinic, primary care or other healthcare facility. 
Chief Operating Officer for Sherwood Forest Hospitals, Simon Barton said: "The new unit will help us to ensure that our patients get the right care, in the right place at the right time. We all want to get our patients home to recover as soon as possible, as home is often the best place for their recovery. Our SDEC unit will help us to avoid unnecessary admissions where a stay in a bed wouldn't benefit the patient, which is really important in helping us to provide outstanding care for all of our patients."

The innovative new centre is able to carry out investigations for patients including observations, diagnostic tests and treatments such as blood tests, x-rays, ultrasound scans, echocardiograms, antibiotics given through a vein, injections, wound care, preventing patients from hospital admissions. Test results and treatment plans are discussed with the patient in face to face consultations on the same day. 
Lead Clinician for Acute Medicine, Nicola Fischer-Orr, added: "More than 30% of patients who may have otherwise been admitted to an in-patient bed in the Trust were treated in our new SDEC between January and May of this year and we have seen an average of 25 patients a day with numbers rising month on month.
"It is brilliant that we have seen so many patients and have prevented these admissions, as it is so much better for our patients, both for those who are being treated and for patients who urgently need our hospital beds." 
The unit was officially opened by Kathryn Allsop, who was the very first patient to be treated at the new unit earlier this year. 
She said: "It was a pleasure to be able to officially open the unit and see it now it has fully opened up after I was treated there earlier this year, I was impressed when I first visited, but now it's fully operational it looks even better and is a really modern and impressive environment.

"I received excellent care whilst I was in the unit and they couldn't have done more for me. It was ideal as I didn't have to be admitted to hospital and I was able to be treated in the unit. I think it will really improve things for patients as it can be a really daunting time coming into hospital, especially if it's an emergency, so to be able to go back home with a diagnosis and a treatment plan in place without being admitted is going to make a real difference." 
The unit is open from 7am until midnight seven days a week and has 25 spaces for patients to be seen and treated within the same day.