Home >
News >
2021 >
Sherwood Forest Hospitals Trust Chair, John MacDonald, appointed as interim Chair to University Hospitals of Leicester NHS Trust
Sherwood Forest Hospitals Trust Chair, John MacDonald, appointed as interim Chair to University Hospitals of Leicester NHS Trust
Posted Thursday, March 25, 2021 5:58 PM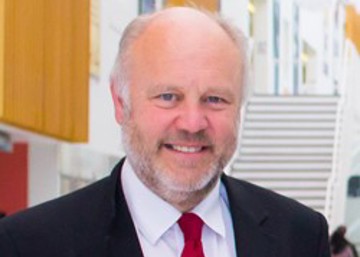 John MacDonald is currently Chair of Sherwood Forest Hospitals NHS Foundation Trust and will join Leicester's hospitals on 19 April on a one year secondment. Claire Ward, current Vice-Chair at Sherwood Forest Hospitals NHS Foundation Trust, will become interim Chair.
A former NHS Chief Executive of two major teaching hospitals, John Macdonald was also chair of University Hospitals of North Midlands NHS Trust. In addition to his role at Sherwood, he is Independent Chair of Derbyshire Integrated Care System. Previously, John has worked in NHS roles within Nottinghamshire and Derbyshire. Prior to working within the NHS, he worked with Touche Ross Management Consultants in the UK and has ten years' experience of working as an economist with international aid agencies in Africa and the Middle East.  He has supported numerous NHS boards to create highly effective top teams as well as to develop successful Trust strategies. 
Most recently, John has been the Chair at Sherwood for the last four years. In that time the Trust has been rated Good overall and Outstanding for Care by the CQC. King's Mill Hospital, its main site with 90% of its services, has been rated Outstanding overall. For the last three consecutive years, Sherwood has received the top staff engagement scores for Acute Trusts in the Midlands in the National Staff Survey and last week the Trust was named Health Service Journal Acute/ Specialist Trust of the Year 2020.
John MacDonald said: "I am delighted to be joining the University Hospitals of Leicester NHS Trust Board and look forward to working with our staff and partners to provide high quality integrated care, including by reconfiguring our estate. This is a challenging time for the NHS in responding to Covid whilst ensuring that people who need other hospital treatment get the care they need. I also know how hard staff have worked over the last year and am keen to support them to recover from the pressure they have all been under and to move forward. I look forward to joining the team and to continuing to serve the people of the East Midlands."
Acting Chief Executive of University Hospitals of Leicester NHS Trust, Rebecca Brown said: "We are delighted to welcome John to Team UHL. He joins us at a very important stage in the Trust's development. We have fantastic people, strong clinical services and a huge commitment to deliver further quality and financial improvements under our Becoming the Best strategy.
"With exciting developments on the horizon including Leicester, Leicestershire and Rutland becoming a designated Integrated Care System in April and the £450m investment in transforming our hospitals soon to come to fruition, I am confident that the Trust will benefit hugely from his extensive experience and expertise."
John MacDonald succeeds Karamjit Singh CBE, who will step down from his role in April after more than seven years as Chair at University Hospitals of Leicester NHS Trust. Paying tribute to him, Rebecca Brown said: "Over the last seven years, Karamjit has been a champion for our Trust values, for high quality patient care and for the diversity of Team UHL and our communities. His insight and passion have been evident in his leadership and he will leave a lasting legacy after his decades of dedicated public service. I would like to thank him, on behalf of the whole team here at the Trust, for all he has contributed to our hospitals and to our local communities."
Claire Ward, current Vice Chair at Sherwood Forest Hospitals NHS Foundation Trust will become interim Chair.  Claire has served there since 2013 and was recently reappointed for her 8th year. She is a qualified solicitor (non-practising) who served as MP for Watford between 1997 and 2010. During her time in Parliament Claire held a number of positions including vice chamberlain to Her Majesty's Household, and Justice Minister. 
Since 2011 she has held a number of executive and non-executive roles in the community pharmacy sector. She continues to work as a director with the Pharmacists Defence Association and providing consultancy to a number of pharmacy organisations and companies. In January 2019 she was appointed as Chief Executive of the Institute for Collaborative Working. She was appointed to the Board of Governors of the University of Hertfordshire in 2018.
Claire Ward said: "I joined the Board in 2013 in challenging times and have been part of the journey to where we are now. I am incredibly proud of the organisation and its people.  Sherwood Forest Hospitals has been through huge change and improvement and the difference has been made possible by the care, compassion and commitment of its workforce and by their dedication to delivering excellent patient care. I am committed to continuing the organisation's culture of always seeking to improve and to learn and I look forward to continuing to work closely with the Board, the Executive and colleagues across the Trust."
John MacDonald added: "Sherwood Forest Hospitals has been through an incredible transformation over the past ten years and it has been a privilege to have been part of the journey, culminating in Sherwood being HSJ Trust of the Year. This success is recognition of the excellent care provided by the Trust and each and every colleague has played an important part in receiving this recognition. I know that the Board, under Claire, will continue to move the Trust forward and, in collaboration with partners, will continue to provide high quality integrated care."
Richard Mitchell, Chief Executive of Sherwood Forest Hospitals NHS Foundation Trust, said: "John has been a brilliant Chair at Sherwood for four years. I will personally miss his support, insight and leadership, but I am equally as excited about welcoming Claire to the role of Chair. We look forward to working with Claire as we continue to take steps to ensure Sherwood is the best possible place to work and receive care."