Visiting update
From 1 January 2022, we have taken the difficult decision to suspend adult in-patient visiting in order to help protect our vulnerable patients. Please visit here for more information. 
Patient appointments
As we continue to see a rise in our urgent care admissions, a surge in admissions of Covid positive patients, and workforce shortages created by Covid isolation, some appointments for planned care may need to be delayed.
We will continue to prioritise urgent and emergency care and cancer treatments and we will do everything we can to avoid delaying care. If we need to take the difficult decision to delay appointments, we will contact affected patients directly to let them know. 
If you do not hear from us, please attend as requested in your appointment letter.
;
Home >
News >
2021 >
Trust's Climate Action Team recognised in esteemed health awards
Trust's Climate Action Team recognised in esteemed health awards
Posted Friday, November 19, 2021 9:03 AM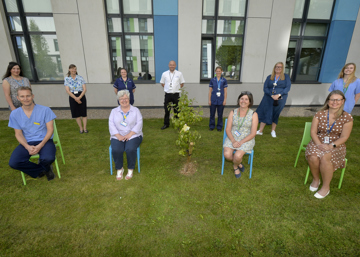 The Climate Action Team at Sherwood Forest Hospitals is celebrating being finalists and recognised in the Environmental Sustainability Award at yesterday's HSJ (health service journal) awards.
The team, which was established in January 2020, includes 25 Sherwood members of staff from various roles and backgrounds supporting climate action and sustainability in their local Trust and community.
Recognised for their innovative efforts and dedication towards climate action, the team has coordinated multiple campaigns and initiatives during the group's infancy, challenging the Trust's Board with climate targets that will support the NHS's goal of being net-zero by 2040.
Doctor Helena Clements, Clinical Climate Lead and Consultant Paediatrician recognises the success of being finalists at this year's HSJ Awards and celebrates the group's remarkable achievements. She said: "To be recognised in the annual HSJ Awards, alongside other NHS Trusts and services all working towards net-zero and a brighter future, is fantastic and I feel very proud of the group and what we have achieved together.
"Since forming the group in January 2020, we've had enormous backing and support from our senior leaders and Trust Board, the largest being the creation and commitment to our Green Plan, which recognises the link between climate and health and outlines some substantial targets that will support the NHS's net-zero commitment. This is only the beginning for the Climate Action Team at Sherwood, as we continue to work on making Sherwood more sustainable for our colleagues and patients, whilst continuing to deliver outstanding care."
Kimberley Cannon, Sustainability Service Lead since July 2021, has supported many climate initiatives at the local Trust as part of her role. She said: "Colleagues at Sherwood have been hugely supportive of the impactful changes that aid sustainability and patient care, such as our re-usable sharps bins that have saved over 77 tonnes of carbon and 26 tonnes of plastic since implementation! We also had huge success in March with our Hope Orchard campaign, where we invited NHS Trusts, schools, and communities to plant carbon-offsetting trees in their green spaces. To date, Hope Orchard contains over 90 trees across the country, and we're excited to continue with 'phase 2' at the end of this month.
"We're all so thrilled to be recognised by the HSJ, and to also be up against some fantastic teams and colleagues in health and social care; we're all making progress up and down the country, and collectively the change is incredible."
Paul Robinson, Chief Executive said: "I am so proud of our Climate Action Team, not only for the localised changes they have implemented and supported, but how their reach across our community has really supported our healthier communities strategy and our NHS net-zero target.
"As a Trust we've managed to achieve so much, and the fact that they have been recognised in the HSJ Awards is fantastic, and very well deserved. I look forward to working with the Climate Action Team on other climate and sustainability targets at Sherwood for the benefit of our colleagues, patients and community."
The full list of winners can be found here: Home | HSJ Awards
To find out more about Climate Action at Sherwood, please visit: https://bit.ly/SFHClimateAction