Visiting update
From 1 January 2022, we have taken the difficult decision to suspend adult in-patient visiting in order to help protect our vulnerable patients. Please visit here for more information. 
Patient appointments
As we continue to see a rise in our urgent care admissions, a surge in admissions of Covid positive patients, and workforce shortages created by Covid isolation, some appointments for planned care may need to be delayed.
We will continue to prioritise urgent and emergency care and cancer treatments and we will do everything we can to avoid delaying care. If we need to take the difficult decision to delay appointments, we will contact affected patients directly to let them know. 
If you do not hear from us, please attend as requested in your appointment letter.
;
Home >
News >
2021 >
NHS takes a stand against bullying through 'one of a kind' learning and sharing civility event
NHS takes a stand against bullying through 'one of a kind' learning and sharing civility event
Posted Friday, September 10, 2021 12:41 PM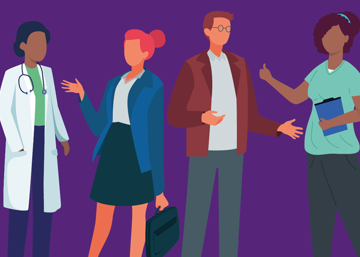 Sherwood Forest Hospitals is hosting a 'one of a kind' learning and sharing event on civility and respect this month, to support NHS colleagues from across the county to recognise incivility and to challenge uncivil behaviours and culture at work.
The virtual event, supported by speakers from NHS England and Improvement and Civility Saves Lives, will take place during the Trust's first Civility Week from Tuesday 14 to Thursday 16 September. 
The event aims to ensure that colleagues can recognise unacceptable behaviour from others, know how to tackle it constructively and the support available to them.
Emma Challans, Director of Culture and Improvement at Sherwood Forest Hospitals NHS Foundation Trust said: "By highlighting the impact of incivility amongst our colleagues and how this can impact on their wellbeing and possibly patient care, colleagues will know what is and what is not acceptable, how to report situations and to feel confident and supported to do so."
In the 2020 NHS Staff Survey, Sherwood colleagues rated the Nottinghamshire-based Trust as the third best hospital Trust in the country and the best in the Midlands to work and receive care; an improvement the Trust is proud of and celebrates. To ensure the NHS is an 'employer of excellence,' the Trust is further emphasising its culture and respect programme, as outlined in the NHS People Plan and People Promise, and continuing to build a kind and respectful culture for its colleagues and patients.
Sherwood's commitment to create a culture where colleagues feel supported, valued and respected for what they do is part of the Trust's CARE values, which expects all colleagues to engage and provide outstanding care and show kindness, compassion and upmost professionalism to each other and patients. 
Emma continues: "In the latest staff survey, 80% of colleagues recommended Sherwood as a place to work; an increase of 6% from last year's survey. However, some of our colleagues told us that they had experienced bullying behaviours from colleagues – this is not acceptable, nor the behaviours we expect at Sherwood, or in the NHS. We want to continue to build on our great culture of compassion and inclusion and to do that we need to further tackle bullying, harassment, and incivility at work for our colleagues.
"By holding this sharing and learning event and by inviting all NHS and healthcare colleagues across the county, we will share the help and support that is available to colleagues who experience this behaviour. This event compliments Sherwood's existing CARE programme, which includes toolbox talks, Freedom to Speak Up and respect and compassion sessions for managers. We hope to empower our workforces against incivility, and to give them the tools, confidence and backing to be able to speak up and challenge this unacceptable behaviour first-hand, or with the support of leaders and services, such as Freedom to Speak Up.
"Sherwood's CARE values align with the NHS People Promise and this means that we have a clear path on how to tackle bullying and incivility at Sherwood."
Dr Chris Turner, Consultant at University Hospitals of Coventry and Warwickshire and founder of Civility Saves Lives is presenting at Sherwood's event. He said: "This is my second time speaking at Sherwood and I am delighted to be able to share my civility experiences and tools with all Nottingham and Nottinghamshire ICS colleagues.
"As a Consultant, I have been on both sides of uncivil behaviours; I have experienced incivility directly and indirectly, and I have also been sharp-spoken and demanding towards previous colleagues. I thought that this was the 'thing to do' and the 'thing to get results' – but I was wrong, and when I learned the impact this has on individuals, teams and possibly patient care, that is when I founded Civility Saves Lives. My experience hopefully provides a real need for change as I can share the effects and damage incivility causes in a workplace."
Sherwood's civility learning and respect event takes place Tuesday 14 to Thursday 16 September, with guest speakers including; Emma Challans, Director of Culture and Improvement; Freedom to Speak Up Guardian, Kerry Bosworth; Radhika Nair, NHSEI; Chris Turner, Civility Saves Lives; and Jason Korman, CEO and Co-founder of Gaping Void.  
The full agenda has been communicated to Sherwood and ICS staff and recordings will be available.