Home >
News >
2023 >
January >
Multimillion pound plans submitted to bring faster, more convenient diagnoses to Mansfield
Multimillion pound plans submitted to bring faster, more convenient diagnoses to Mansfield
Posted Wednesday, January 18, 2023 11:10 AM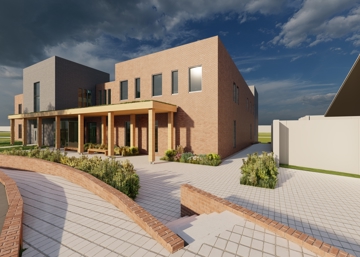 Sherwood Forest Hospitals NHS Foundation Trust has submitted plans to Mansfield District Council for a purpose-built 'Community Diagnostics Centre' that will run alongside its existing Mansfield Community Hospital in Stockwell Gate, Mansfield.
If approved, the Centre will house a 'one-stop shop' for patients to access the tests and investigations they need in a single visit, helping them to give them an answer to their concerns – including with an 'all clear' or diagnosis – sooner.
Getting a rapid diagnosis for conditions such as cancer will help patients access the treatments they need more quickly – something that could be genuinely life-saving, as earlier diagnosis is key to improving survival rates and quality of life for those suffering chronic diseases.
Checks available at the new Centre will include a host of X-rays, scans and tests for a range of other conditions, including cancer and other long-term conditions – like heart and lung disease.
If approved, the plans could see the purpose-built facility open its doors to its first patients as soon as autumn 2024 to complement the services already provided at the Trust's King's Mill, Newark and Mansfield Community Hospital sites.
The plans are currently subject to a national funding bid. If the funding is secured and the plans are approved, it is hoped the Centre will welcome thousands of patients each year – as well as creating hundreds of new jobs.
David Ainsworth, Director of Strategy and Partnerships for Sherwood Forest Hospitals Trust, said: "Community Diagnostic Centres are redefining the way patients access tests across the country and we're delighted to share our own plans for a new state-of-the-art Centre right here in Mansfield.
"Our NHS staff are already providing the latest advancements in diagnostic treatment and care. If approved, these plans will boost those efforts and ensure that patients can access the life-saving tests, checks and treatment they need even more quickly.
"While there is still some way to go before those plans are finalised, that would be great news for patients across Nottinghamshire – and for the hundreds of people who we hope to recruit into the medical, nursing and support roles we will need to run this exciting new facility."
Amanda Sullivan, Chief Executive at NHS Nottingham and Nottinghamshire, said: "This facility will help so many patients across Nottingham and Nottinghamshire to be seen and diagnosed quickly and efficiently.
"Although the Centre will be based in Mansfield, this new facility – if approved – will be a huge boost for the area as a whole, as patients across the whole of Nottingham and Nottinghamshire who will be able to benefit from the facilities available there.
"It will be great to see the positive impact this will have on patient care in the future." 
The plans for the project will soon be shared online over the coming days, with members of the public being invited to comment on the plans before they are formally considered by Mansfield District Council's Planning Committee later this year.
The Centre will be built where a derelict building that is awaiting demolition currently stands on the Mansfield Community Hospital site.
Anyone interested in learning more about the plans and the range of job opportunities on offer will have the chance to do so and ask any questions at a dedicated public engagement event. That open event is being held at Mansfield Community Hospital's main reception on Thursday 26 January from 11am to 7pm.