Home >
News >
Body-worn cameras introduced at Sherwood Forest Hospitals to help protect staff and patients from violence and aggression
Body-worn cameras introduced at Sherwood Forest Hospitals to help protect staff and patients from violence and aggression
Posted Friday, March 4, 2022 5:48 PM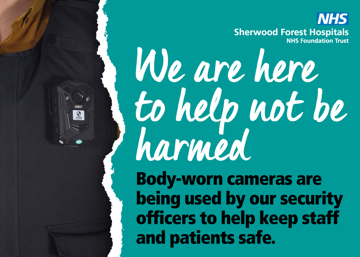 Body-worn cameras have been introduced across Sherwood Forest Hospitals to help protect both its staff and patients from threatening or violent behaviour.
The cameras, which have been introduced this week, are smaller than a smartphone and are worn by all security officers at King's Mill Hospital and Newark Hospital to help deter visitors to the hospitals from being aggressive towards staff, patients and other visitors, and create a safe environment for everyone.
The body-worn cameras will work alongside CCTV that's already across the hospitals to ensure that it is a safe and secure environment to work and receive health care. In addition to hopefully preventing violent behaviour, the body-worn cameras will also help to identify and prosecute offenders.
Security officers will wear the cameras on their uniform in clear view and they will only be switched on to video when called to an incident within the hospital where an individual is being violent or abusive, and only after they've been told that they're about to be recorded.
Sherwood Forest Hospitals' Professional Lead for Security Management and Violence Reduction, Wesley Burton, said: "Our Sherwood colleagues have worked incredibly hard throughout the Covid-19 pandemic, as they always have, always ensuring that our patients are cared for in an empathetic way, the same way that they would want their own loved ones cared for. Unfortunately, despite this, we have seen an increase in violence and aggression towards our colleagues over the past two years, particularly during the pandemic with restrictions in place.
"Violent and aggressive behaviour, whether it is against staff, patients or visitors, is not acceptable – it has no place in our hospitals and will not be tolerated. Everyone has the right to come to work, or a place to receive healthcare, and feel safe.
"As well as helping to reduce the number of incidents, we hope that knowing our security officers have these cameras, alongside CCTV across our hospitals, helps patients and visitors to feel secure."