Home >
News >
2021 >
Andrew Marshall appointed as Deputy Medical Director at Sherwood Forest Hospitals NHS Foundation Trust
Andrew Marshall appointed as Deputy Medical Director at Sherwood Forest Hospitals NHS Foundation Trust
Posted Wednesday, October 13, 2021 12:19 PM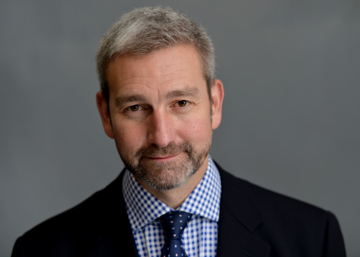 Following a national recruitment process, Mr Andrew Marshall has been announced as the new Deputy Medical Director at Sherwood Forest Hospitals NHS Foundation Trust. He will be taking up his new post from 1 November 2021.
Mr Marshall is currently a Deputy Medical Director at Nottingham University Hospitals NHS Trust with a clinical background as a Consultant Paediatric ENT surgeon, with expertise in cochlear implantation and paediatric airways. He will continue with his clinical practice at Nottingham University Hospitals when he moves into his new role, strengthening the senior clinical leadership and clinical voice at Sherwood Forest Hospitals and also supporting the Medical Director's office portfolio.
Mr Marshall brings a wealth of clinical leadership experience and led several elements of Nottingham University Hospital's Covid response, including establishing the Trust's Surgical Prioritisation Group and establishing and Chairing the organisation's Covid Clinical Senate, which was a multi-disciplinary team which worked together to consider forecasts for Covid and to develop appropriate responses.
Nationally, Mr Marshall has been the clinical lead for the Getting it Right First Time (GIRFT) programme for ENT Surgery and authored the programme's national report, with recommendations for improvement. He is now the working with the National Consultant Information Programme team (NCIP) at NHSE/I.
Dr David Selwyn, Medical Director at Sherwood Forest Hospitals NHS Foundation Trust said: "We are delighted to welcome Andrew to this critical role in our leadership team. His knowledge of the local health and care system, combined with his excellent track history in clinical leadership makes him an superb  addition to the strong senior team we are building at Sherwood and we can't wait to welcome  him to the organisation."
Mr Marshall said: "This is an exciting opportunity and I am looking forward to joining Sherwood Forest Hospitals and to contributing to the team. I am sorry to say goodbye to colleagues at Nottingham University Hospitals but will be continuing my clinical commitments there so will work across both organisations.
"Sherwood's values match with my own and I am confident that I can contribute to the senior leadership team. The Trust is in a strong place, but times are difficult across the NHS at the moment and I know that working together the outstanding teams at Sherwood can continue to offer excellent patient care and look after colleagues."