Our Charity
Sherwood Forest Hospitals Charity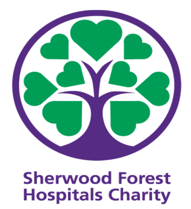 Sherwood Forest Hospitals NHS Foundation Trust has always been at the heart of the community and it is thanks to the kindness of individuals, community groups, businesses and the charitable trust that we have been able to invest in innovative new equipment, development projects and other initiatives over the years and to offer the best possible patient care and medical treatment.  Sherwood Forest Hospitals Charity is there to support every area of the hospital and we would like to say a huge thank you for helping us to achieve this.  Your support makes a difference to our patients, their families and visitors.

The Sherwood Forest Hospitals Charity are delighted to have signed up to the AmazonSmile programme which is a simple, automatic way for anyone shopping online with Amazon to support the charity at no extra cost to them. Amazon will donate 0.5% of the purchase price of eligible purchases. With the upcoming Christmas season, now is the perfect time to support us and our hospitals.
Please click on the link below for instant access:
https://smile.amazon.co.uk/ch/1054086-0
Amazon Wish List
The Sherwood Forest Hospitals Charity has set up a wish list for anyone wishing to purchase essential items for patients such as activity packs, clothing items and baby sleep suits or a treat for our hardworking staff such as boxes of biscuits or luxury coffee.  Please direct anyone who enquires to the Sherwood Forest Hospitals Charity page and choose items from shopping list 1 or share the following link:  https://t.co/DtULtyEhtN?amp=1
The delivery address can be manually changed for delivery direct to the hospital -  deliver to the Community Involvement Hub, King's Mill Hospital, Mansfield Road, Sutton in Ashfield, Notts, NG17 4JL.  A message can be typed detailing where across our 3 hospital sites the delivery is for. 
Any donation, no matter how big or small, will make a difference.  If you would like to donate to Sherwood Forest Hospitals Charity please find listed below options for you to choose from:
1. In person at one of the hospital sites
King's Mill Hospital - visit the Community Involvement Department Hub situated near the main entrance.
Newark Hospital - visit the Community Involvement Office at the main entrance.
Staff will be available Monday to Friday between the hours of 8 am and 5 pm to assist you.
2. Via our Just Giving Page:  www.justgiving.com/sherwoodforest/.Just Giving is also a great way of collecting sponsorship money.  It is easy to use and you can set up your own fund raising page in minutes and all the funds that are donated are transferred straight to Sherwood Forest Hospitals NHS Charity.  Your sponsors will also be able to gift aid their donation with a simple click of a button.  To set up a Just Giving page, visit www.justgiving.com and follow the simple instructions.  If you would like help setting up your page, please do not hesitate to contact the Community Involvement Department on telephone number

01623 - 676011 or by e-mail sfh-tr.charity@nhs.net
3. By cheque made payable to Sherwood Forest Hospitals NHS Foundation Trust Charitable Funds.  You may wish to specify where you would like your donation to be made to.  Please send to:

Sherwood Forest Hospitals NHS Foundation Trust
Community Involvement Department
Mansfield Road
Sutton in Ashfield
NG17 4JL
4. Credit or debit card by visiting our General Office at King's Mill Hospital located in the King's Treatment Centre.
5.Credit or debit card via telephone on 01623 – 622515 extension 3263 or 4041 Monday to Friday between the hours of 9 am and 5 pm.
We could not provide support to our Trust without your help.  Each year thousands of people take part in fundraising in their community, make a gift in memory of a loved one, fun runs or sponsor a friend in their fund raising. 
Thank you to the tremendous enthusiasm and generosity of our fundraisers.  
Don't forget to keep in touch.  We love hearing from our supporters, so remember to share your stories, events and photos on our Facebook and Twitter pages.  If you have a query or concern please do not hesitate to contact a member of the Community Involvement team by e-mailing:
King's Mill Hospital  and Mansfield Community Hospital
 sfh-tr.charity@nhs.net Telephone 01623 - 676011
Newark Hospital
sfh-tr.charity@nhs.net Telephone 01636 - 685692