Visiting update
From 1 January 2022, we have taken the difficult decision to suspend adult in-patient visiting in order to help protect our vulnerable patients. Please visit here for more information. 
Patient appointments
As we continue to see a rise in our urgent care admissions, a surge in admissions of Covid positive patients, and workforce shortages created by Covid isolation, some appointments for planned care may need to be delayed.
We will continue to prioritise urgent and emergency care and cancer treatments and we will do everything we can to avoid delaying care. If we need to take the difficult decision to delay appointments, we will contact affected patients directly to let them know. 
If you do not hear from us, please attend as requested in your appointment letter.
;
Home >
News >
2021 >
More services available at Newark Hospital as Trust commits to further investment for local community
More services available at Newark Hospital as Trust commits to further investment for local community
Posted Monday, November 8, 2021 11:55 AM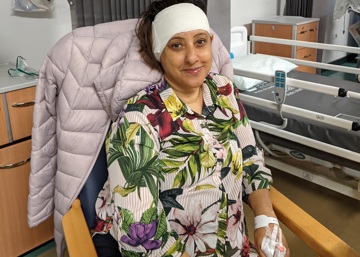 Patients attending Newark Hospital will be able to benefit from a range of ear surgical procedures that can now take place at the hospital thanks to recent investments in the site.
As part of Sherwood Forest Hospital Trust's commitment to investing in Newark Hospital, the hospital's services are being expanded to include ear, nose and throat (ENT) surgical elective procedures.
One patient to recently benefit from the new ear surgical service was Ravinder Manku, 60, from Edwalton, near Nottingham, but chose to be treated at Newark. She had surgery to repair a perforation in the eardrum and remove any infection, which will allow her to hear much better. 
Ravinder said: "I would recommend Newark Hospital to anyone, the care was outstanding. The staff did such a good job of making me feel comfortable. I was really nervous about the procedure, but they kept me well informed and really looked after me, keeping me calm throughout.
"I found the hospital atmosphere to be a really calm, clean environment and to be able to come in and be home within the same day is brilliant. Thank you to everyone who was involved in my care."
Programme Lead for the Newark Hospital Transformation Programme, Richard Mills said: "Since the beginning of 2020 we have invested more than £5millon into Newark Hospital, which includes investments in the site and equipment as well as additional staffing and clinical supplies to develop and enhance the services we offer.
"We continue to work with our partners to enhance the offer at Newark and it is brilliant to see the new ENT service taking shape and seeing the positive impact that it has on our patients. I can't wait to see further services develop as our plan for Newark Hospital continues to be put into action."
The first major ENT case was undertaken earlier this year and procedures such as this will now continue as a routine offer at Newark Hospital.
More about the Newark Strategy Transformation Programme can be found in a video here.
A full Directory of Services for Newark can be found here - https://www.sfh-tr.nhs.uk/our-hospitals/newark-hospital/