Newark Hospital infection free for a whole year
Posted Wednesday, July 18, 2018 9:58 AM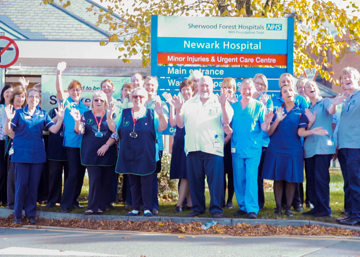 Newark Hospital has officially been free of hospital acquired infections for a year.
The impressive achievement has been made thanks to a number of measures that have been put in place. These include; regular audits of good practice including hand hygiene, use of gloves and aprons, maintenance of devices and regularly monitoring the cleanliness of the environment.
Infection control tests are carried out every day and the hospital is visited at least twice a week by a member of the Infection Prevention and Control Team who observes practices and delivers education to staff and patients. Each area within the hospital also has an Infection Prevention and Control Link Practitioner who also monitors best practice, conducts audits and provides education to patients and other staff about keeping infection free.
Infections that can be acquired in a hospital setting include; CDiff, MRSA, MSSA, EColi, Urinary Catheter associated, Pseudomonas Aeruginosa and Klebsiella blood stream infections.
Assistant Chief Operating Officer for Newark Hospital, Ant Rosevear said: "It is fantastic that our hospital has been infection free for a year.
"I would like to thank all of our staff for their efforts to keep Newark Hospital infection free. These rates of infection have a really positive impact on our patients' journey, as it enables them to have a safer and potentially shorter stay within the Trust, whilst providing a better patient experience.
"It is so important to keep our patients as safe as possible and this achievement just shows how dedicated our staff are to make this happen."