Home >
News >
2018 >
August >
Hospital patients, visitors and staff get more options with Food to Go range
Hospital patients, visitors and staff get more options with Food to Go range
Posted Friday, August 31, 2018 2:04 PM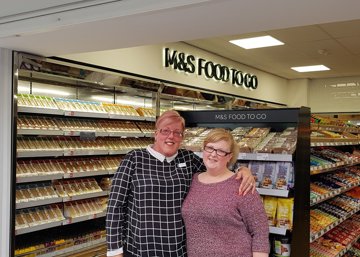 King's Mill Hospital has become one of the first hospitals in the East Midlands to offer a Marks and Spencer Food to Go range.
The range will be based in the existing WHSmith outlet in the main entrance, thanks to a recent partnership between WHSmith and Marks and Spencer and will offer more food choices to patients, visitors and staff at the hospital site.
The new food choices are in line with the national bid by the government to make food outlets in hospitals healthier. The wider selection includes; salads, healthy snacks and more fruit options.
Head of Estates and Facilities at the Trust, Ben Widdowson, said: "It is great that our patients, visitors and staff will now have a wider range of food options when visiting or working at King's Mill. We worked closely with both WH Smiths and M&S to ensure that the offering would be suitable to meet the needs of our patients whilst also providing healthy options for them. I hope that people enjoy the improved selections."
The M&S Food to Go range opened on Thursday 30 August 2018.