New equipment could save the lives of Trust's littlest patients
Posted Friday, August 10, 2018 1:54 PM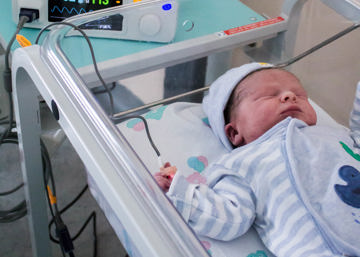 Midwives will now be able to spot heart defects in babies earlier thanks to national charity, Tiny Tickers, donating two state-of-the-art heart monitors to Sherwood Forest Hospitals.
Tiny Tickers works to improve heart defect detection rates during pregnancy and in newborns to help save lives, improve post-surgery survival rates and lead to a better long-term quality of life. The charity offered Trusts in the region the chance to win the new monitoring systems.
Midwife, Paula Shore explains: "Tiny Tots wrote to Trusts across the region asking them to write to them saying how and why the machines would help their areas. So we contacted them explaining how they would improve services on our birthing unit and how we would use them and they have kindly funded two machines for us".
"This will really make a difference to babies who are born with heart defects, as we will be able to detect any concerns quicker."
The machines allow doctors and midwives to have the information they need to detect respiratory complications earlier and intervene sooner.