Home >
News >
2018 >
May >
Dad who lost both wife and daughter leaves special donation in their memory
Dad who lost both wife and daughter leaves special donation in their memory
Posted Wednesday, July 18, 2018 10:10 AM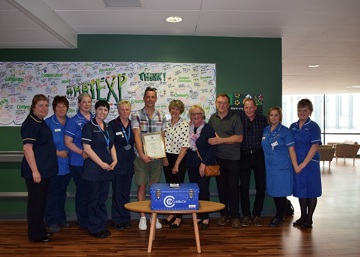 A very special donation was made to Sherwood Forest Hospitals on Saturday 5 April in memory of Heidi and Isabella Renton, who both sadly passed away in August 2017 at King's Mill Hospital after Heidi, who was pregnant with Isabella at the time, tragically suffered a seizure caused by a heart defect.  
On what would have been the weekend following their fourth wedding anniversary on Thursday 3 May, Craig Renton came back to King's Mill Hospital with both his and Heidi's parents to make the donation of a cuddle cot in memory of his wife and daughter and meet with the teams who cared for them both.
The loss of Heidi and Isabella has touched the nation's heart and Craig has since been on a mission to raise as much money as possible in both Heidi and Isabella's memory. With the help of family and friends, he has so far managed to raise nearly £35,000.  
Craig held a charity boxing match to raise money for the cuddle cot for Sherwood Forest Hospitals, which cost £1,600, whilst Heidi's friends also held a race night to help add to the funds. The special cuddle cot is from the 4Louis Charity and will be used in King's Mill Hospital's baby bereavement suite, known as the butterfly room, keeping babies cooler for longer, allowing grieving parents to spend up to 72 hours with their baby to say goodbye to them, take prints of their hands and feet and have skin to skin contact with them.
Craig said: "We found the bereavement suite really calming when we said goodbye to Isabella and it was the best space for us to be in at the time, so I wanted to do something that would help other families and also to say thank you to the Trust for being so caring and compassionate towards us.
"It was really emotional to meet up with everyone who looked after Heidi and Isabella, but I wanted to see them again to say thank you, as they did everything they could. They even made different routes for us at the time so that we didn't have to walk through the birthing unit to get to the bereavement room after we had lost Heidi. They were so sensitive and it meant a lot. I will always remember their kindness. I miss my wife and daughter so much and we think of them every day, but I am doing all I can to leave a legacy in both their names."
Craig has so far run both the Paris and London marathons and the Cambridge half marathon to help raise funds, he plans to do a triathlon and hold a charity football match later in the year.
Divisional Head of Nursing and Midwifery, Alison Whitham said: "We would like to say a heartfelt thank you to Craig for his kind donation. His, his family's and Heidi's family's loss was truly heart breaking and was felt throughout the whole Trust. I think Heidi and Isabella will always be remembered by those who cared for them that day."
Bereavement Midwife, Melanie Butcher, added: "The cuddle cot will be a real benefit to the hospital, as it will allow for grieving families to take time to say goodbye to their baby over a longer period of time. They are really well designed as they can fit in to a Moses basket to keep the environment homely at this traumatic time, which is so important. We as a team often think of Heidi and Isabella and this is a fitting tribute to them that will be a lasting memory."