Home >
News >
2018 >
May >
Praise indeed from longstanding Newark patient as NHS celebrates its 70th year
Praise indeed from longstanding Newark patient as NHS celebrates its 70th year
Posted Wednesday, July 18, 2018 10:14 AM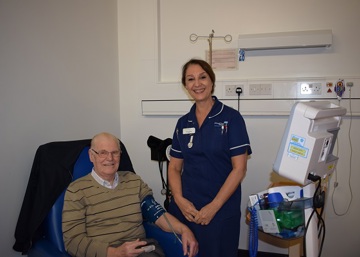 As the NHS celebrates its 70th birthday this year, a long standing patient from Newark Hospital has praised both the NHS and Newark Hospital for their "fantastic services and care."
Gordon Hindson, 81, from Balderton, has been coming in for treatment at Newark Hospital for more than 13 years.
He said he can only just remember the time before the NHS began, but says he does not know what he would have done without it after being diagnosed with Refractory Anemia with Ring Sideroblasts.
Gordon needs to have blood transfusions every other week to help with his condition, he said: "I may not be here without the NHS. Newark Hospital has been brilliant. It's a fantastic service and I cannot fault the care that I have had, the nurses are brilliant and I can call them any time and they will sort any problems out and listen to any concerns that I have.
"I have been to other hospitals, but I would encourage people to ask to come to Newark Hospital if they live in the local area, as it's absolutely fantastic and a first class service."
Minster Ward at Newark Hospital has been running the blood transfusion service for more than two years now, with it previously being based at Newark Hospital's Eastwood Centre. It was moved to Minster Day Case Ward so that more clinic space could be provided at the Eastwood Centre.
Ward Sister, Denise Davies said: "It's really lovely to hear such great praise from Gordon, especially as he has been a patient with us for so long.
"Blood transfusions are just one of the many services that we offer on our Minster Day Case Ward and it's great to hear such positive views from our patients."
Procedures that the day case unit provides include; deep vein thrombosis monitoring, mechanical falls and anemia monitoring, outpatient care for conditions such as cellulitis (a serious skin infection), blood transfusions, gastroenterology, osteoporosis and rheumatology infusions.