SFH fully charged for electric car use
Posted Wednesday, September 26, 2018 9:01 AM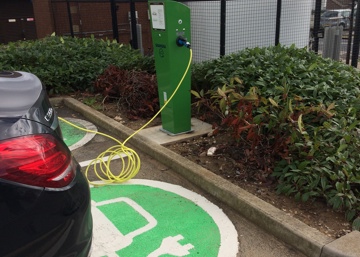 In a bid to ensure that Sherwood Forest Hospitals works to protect the environmental resources now and for future generations, the Trust has invested in two electrical car charging points.
The points are located in King's Mill Hospital's car park 1 for patients and visitors and car park 11 for staff, with the hope that they will help to reduce the Trust's impact on the environment and encourage more people to use this mode of transport in the future. 
Patients, staff and visitors will not be charged for using the points at present (although general car parking charges will still apply). Patients and visitors will need to get a free token from main reception in order to use the charging point.  
Head of Estates and Facilities, Ben Widdowson said: "We are really pleased to be able to offer this service to our patients, staff and visitors to help reduce carbon emissions. We noted that more and more people are now using electric cars, so we thought it would be a good way to encourage this use going forward in order to help reduce emissions for future generations.

"We also recognise that this brings the Trust into line with the Sustainable Development Strategy for Health, Public Health and Social Care System which encourages health organisations to work to reduce carbon emissions and minimise waste and pollution."