Home >
News >
2019 >
Hospital appeal for new scanner hits £450,000 thanks to donation from breast cancer support group
Hospital appeal for new scanner hits £450,000 thanks to donation from breast cancer support group
Posted Monday, December 9, 2019 12:30 PM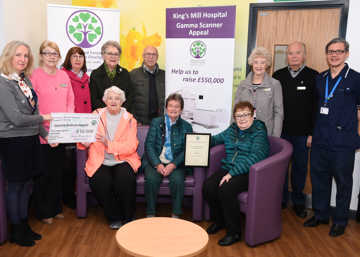 Sherwood Forest Hospitals' big appeal to raise £550,000 for a new nuclear scanner to help diagnose patients faster and easier has now hit £450,000, after a boost from a breast cancer support group.
The Amazon Breast Care Support Group, who support King's Mill Hospital throughout the year by buying specialist equipment, donated £10,000 to the hospital's Gamma Scanner Appeal, which started in April last year. With £550,000 to raise in total to buy a new nuclear scanner that will enable both gamma and CT imaging to happen at the same time, the group wanted to give the appeal a boost, bringing the total to £450,000.
The group's secretary and treasurer, Geoff Stafford, said: "We fundraise in various ways throughout the year, such as through raffles, race events, fashion shows and marathons, as well as donations from the public. We regularly buy equipment for King's Mill Hospital and decided we wanted to give £10,000 to the Gamma Scanner Appeal now it's close to the end to give it a boost. We're excited that the appeal is so close to its target as we know that the new technology will also help in diagnosing breast cancer in patients."
The Amazon Breast Care Group was set up 25-years ago by a group of breast cancer patients who wanted to offer each other and other patients support. Since then, the group has grown and has become a charity supporting King's Mill Hospital.
The money raised through the campaign, which is being run by the hospital's charity, will be used to buy a new gamma scanner with CT scanning technology for the nuclear medicine department at King's Mill Hospital, enabling more than 2,000 patients each year to have advanced scans and revolutionise how they are diagnosed and treated.
Sherwood Forest Hospitals' Nuclear Medicine Specialist, Rob Bradley, added: "We're incredibly grateful to the Amazon Breast Care Support Group for their generous donation to our appeal – thank you. We've had some fantastic donations from the public, local groups, staff and businesses throughout the appeal which have helped us get so close to our appeal target and making a difference.
"One of the benefits of the new gamma camera is that it will also include a CT scanning function so that patients can have two different scans at the same time, cutting down on the number of hospital appointments and scans needed and also enabling us to scan more patients. The fusion of the imaging also enables us to report our findings with much greater accuracy than ever before. This is particularly true when imaging the bones, such as when looking for spread of breast or prostate cancer, or looking for evidence of heart disease, these being two of the most common types of scan we do. So, the Amazon Breast Care Group's donation will benefit our current and future breast cancer patients."
Donations to the appeal can be made by texting 70070 and quoting SFHC18 to donate £5 or £10, online at Just Giving (www.justgiving.com/sherwoodforest) or by cash or cheque at the Community Hub in the entrance of King's Mill Hospital. Cheques should be made payable to Sherwood Forest Hospitals Charity.