Home >
News >
2019 >
New service at Newark Hospital makes a real difference to cancer patients.
New service at Newark Hospital makes a real difference to cancer patients.
Posted Friday, February 8, 2019 10:30 AM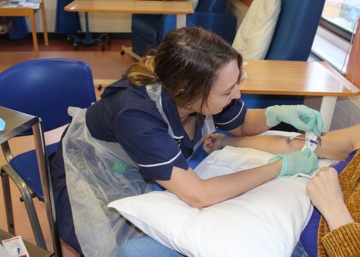 Chemotherapy patients and patients who need lines flushing and dressings changed as part of their ongoing treatments can now access the specialist support they need at Newark Hospital thanks to a new PiCC/Mid line care service. 
Patients who are on chemotherapy or need antibiotics administered direct to their bloodstream are amongst a range of patients that will benefit from the new service, which will be run from Newark Hospital's Minster Day Case Ward. 
Patients are often unwell and feel sick when they have chemotherapy, but need to attend hospital to make sure the medical equipment they use is working properly. This involves 'flushing' the lines that deliver drugs into the bloodstream – a process that can only be carried out by nurses with specialist training. 
Nurses at the Hospital have now been trained, meaning that patients who live in Newark will ultimately cut down on travel time when they need regular and often lifesaving therapies.
The service also means that patients who require courses of IV antibiotics will be able to have this carried out as an outpatient at Newark Hospital, avoiding the need to travel to King's Mill Hospital for regular treatment. 
A local resident from Newark, who is currently having chemotherapy, is the first patient to use the PiCC line flushing service at the hospital. She said: "This service will make a huge difference to me and for other cancer patients too. I have to have my PiCC line flushed every week and was previously having to travel to Nottingham for this, which could be up to a two hour round trip sometimes. Now I can have this done on my doorstep, as I only live five minutes away from the hospital, which is brilliant. The staff have been great and have even kept me informed about the service, as I asked about it when I first had to have the line in, in November. It really will make such a difference to me and my partner who comes with me to my appointments."
Minster Ward Sister, Denise Davies, who has championed the new service, said: "I am so pleased that we have set this service up for our patients. It will make such a difference to them, especially to those who are being treated for cancer, as they will no longer have to travel far to get their PiCC lines flushed. We have wanted to set this service up for a while and it is brilliant that we have now managed to achieve this." 
The first patient to use the IV antibiotic service is Barbara Woods, 68, who lives in Kneesall, she has been travelling to have her IV antibiotic treatment for her bronchiectasis at King's Mill for the last four years. 
Now that she can have her treatment closer to home she said: "I'm so happy that I can now have treatments at Newark, it makes a real difference and it will make a difference to the whole area. The staff are really lovely here and really look after you. The treatment that I have means that I have to have IV antibiotics daily over two weeks, so I was doing a lot of travelling, sometimes for over an hour, just for a 45 minute treatment, which was quite tiring. Now I'm only a quick drive away, so it makes a huge difference. 
"The respiratory team at King's Mill have been fantastic too and it has been a seamless transition from King's Mill to Newark for my treatment."
Inpatients will also be able to be discharged sooner to receive ongoing IV antibiotics treatments as an outpatient. As the service develops GPs will be able to refer many patients who would have previously had to visit the Hospital's Urgent Care Centre or King's Mill Hospital. 
Patient David Jones, 68, from North Muskham, has been benefitting from another new service that Newark Hospital is now providing, which means he is able to receive his subcutaneous injection for cancer treatment at Newark. For the last three months', he has come to Newark Hospital to have monthly injections to strengthen his hip bone where his tumour is, having previously had to travel to King's Mill Hospital for treatment. He said: "It is brilliant that I can now have my treatments at Newark Hospital, it's only 10 minutes away from where I live, so it has really taken the travel stress out of my treatments. The staff are superb and really put you at ease, I would urge local people to ask to see if they can have treatments at Newark Hospital." 
MP for Newark, Robert Jenrick, said: "I'm delighted that Newark Hospital will be increasing its services to cancer patients. This is something I have been pressing for, as have a number of residents including the late Trevor Frecknall. Given the distances to other hospitals, Newark should continue to develop services that reduce the need to travel when one is suffering from conditions like cancer that require regular visits, which can be very uncomfortable or even painful and costly. I'm grateful to the Trust for taking action." 
Chief Executive for Sherwood Forest Hospitals, which runs Newark Hospital. Richard Mitchell said: "We have been working hard to provide more services for patients at Newark Hospital and it is really positive that we are now able to provide the PiCC line flushing service for patients who have cancer, I hope this will make a real difference to them. More patients than ever before are now receiving care at Newark and we will continue to look at other services that can also be provided at the hospital. Newark has a bright future."
Pictured: Minster Ward Sister, Denise Davies carrying out a PiCC line flush.