Home >
News >
2019 >
Patients, visitors and staff advised to leave extra time for their journey to Newark Hospital
Patients, visitors and staff advised to leave extra time for their journey to Newark Hospital
Posted Wednesday, February 13, 2019 10:22 AM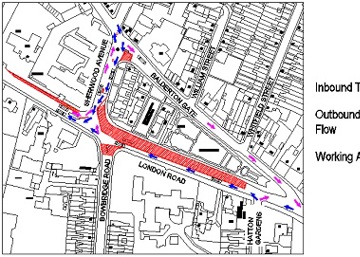 Patients, staff and visitors to Newark Hospital are being advised to allow more time for their journey to and from the hospital site from 18 February - April due to a diversion route.
Severn Trent Water will be improving the sewerage system at the junction of London Road and Bowbridge Road/Sherwood Avenue, which is due to cause disruption to the traffic flow.
The diversion route for the Bowbridge Road closure will mean that hospital access will be via Portland Street, Victoria Street and Boundary Road.
The works will commence on Monday 18 February and traffic flow will be managed by the use of a 1-way system on London Road between the junctions with Balderton Gate and Sherwood Avenue. The diversion route and more information can be found on the project website at www.bnmnewark.com.
The 1-way system will allow inbound traffic to continue on London Road whilst outbound traffic will be diverted onto Sherwood Avenue and Balderton Gate. In order to maintain traffic flow, a temporary mini-roundabout will be installed at the Sherwood Avenue/Balderton Gate junction.
Bowbridge Road will also be closed for the laying of new sewers. Initially this closure will be at the London Road junction but will move steadily up towards Sydney Terrace.
During these works a closure will also be put in place on Earp Avenue. This is a safety measure as it is feared many vehicles will use the adjoining estate to by-pass the traffic restrictions, causing danger to residents and school children.
Residents with any concerns can call the Seven Trent Customer Liaison Team regarding work in the area or the project in general on Freephone 0300 303 9647 or email contactus@bnmnewark.com.