Home >
News >
2019 >
Hospital staff raise money and revamp relaxation room in their own time
Hospital staff raise money and revamp relaxation room in their own time
Posted Tuesday, June 25, 2019 2:04 PM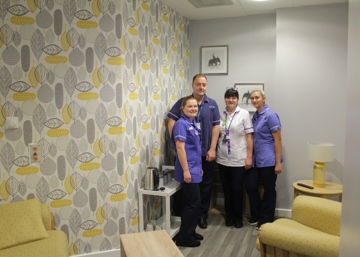 After staff realised that the ward didn't really have anywhere for families to relax or to receive news about their relative in a comfortable setting, they set about raising funds with a raffle on the ward, raising almost £400.

Staff on the ward pulled together to use the funds to transform a dated, clinical-looking room into a comfortable and home-from-home relaxed sitting room. The funds were used to buy new furniture, bright and modern wallpaper and a television, and a relative of a patient on the ward kindly donated a new wood-effect vinyl floor to spruce up the room.

Deputy Ward Leader, Hayley Anthony, is one of the members of staff, amongst many, that was involved in the revamp. She said: "The room that we had before was very dingy and clinical and really not relaxing so it was very rarely used. We wanted something more relaxing and less clinical for patients. We all got stuck in painting the room and a carer at the Trust wallpapered the room in her own time. The finished look is perfect and just what we wanted.

"I think it's really important that we are able to offer a space for families to relax close to their loved one when in hospital. We've needed this home-like room for some time and I'm grateful to everyone who got involved with the raffle and those that dedicated their time to making the room a possibility. It just shows what we can do when we work together. We're also incredibly grateful to the family that has donated the new flooring to us, it's made such a difference.
"We're already seeing more families using the room just to have a hot drink away from a clinical setting and watch some television."