Home >
News >
2019 >
Mansfield Street Health project wins national Nursing Times Award
Mansfield Street Health project wins national Nursing Times Award
Posted Monday, November 4, 2019 4:26 PM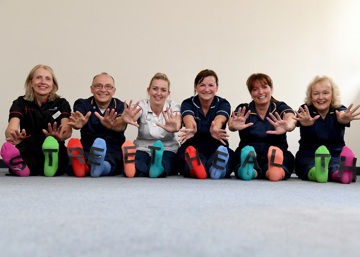 Sherwood Forest Hospitals is proud to announce that the Street Health Project has won a prestigious Nursing Times Award in the His Royal Highness, Prince of Wales, Integrated Approaches to Care category.
The team, who worked in partnership with Mansfield and Ashfield CCG to set up the community Street Health project, attended the awards ceremony held on Wednesday 30 October.
The awards recognise the innovation and best practice of nurses and midwives throughout the country and celebrate the amazing achievements of the nursing profession.
The Street Health project was first set up in November 2018 to offer regular support to people living on the streets and encourage them to access health care services such as GPs or a hospital when they need to. The project is held at a local soup kitchen and over time the team have built up some much needed trust with the people that go there.
Whilst they are there the team are able to check wounds, re-dress them, make sure that people are vaccinated for flu, check their dental health, give advice from a GP, practice nurse , a sexual health specialist and a dietician and also tell people about the free eye checks available through Ashfield Eye Care Services.
Chief Nurse for Sherwood Forest Hospitals, Suzanne Banks, said: "I am so proud of the team who set this up and continue to work tirelessly, often in their own time, to help make this project so successful. People who attend the soup kitchen regularly now know the team well and trust them, which has really helped improve the health and lives of people who are living on the streets in our local area.
"At our Trust one of our priorities is to play a leading role in transforming local health and care services and by working with our partners across the health sector in our area I am pleased to say we have managed to do this. People living on the streets are part of our community that often don't access health care when they really need it, so to have played a part in helping these people improve their health is fantastic and I'm so pleased that the project has been recognised for this innovative and brilliant work."
Dr Milind Tadpatrikar from the Roundwood Surgery in Mansfield said: "Our surgery has been actively involved in supporting homeless people for more than ten years so this issue is very close to my heart. I am really pleased with how successful this project has been and continues to be.
"By offering things like flu vaccines and health assessments we are helping to protect an extremely vulnerable part of our population, particularly as winter approaches, which is really important. It is great that this work has been recognised and I am proud that myself and colleagues have been part of it all."
Editor of Nursing Times, Steve Ford, said: "The Nursing Times Awards showcase the innovation and best practice of nurses and midwives up and down the country, which I hope will be shared widely to improve care. The awards represent a great opportunity to celebrate all that is good about the nursing profession and I would like to personally congratulate all our winners and finalists.
"Hearing about the ground-breaking work being done by nurses around the UK to improve patient care never ceases to amaze me. This is especially true at the moment given the workforce pressures that nursing staff are under in many places."