Home >
News >
2019 >
Newly refurbished Sconce Ward given revamp to help dementia patients at Newark Hospital
Newly refurbished Sconce Ward given revamp to help dementia patients at Newark Hospital
Posted Thursday, October 3, 2019 2:19 PM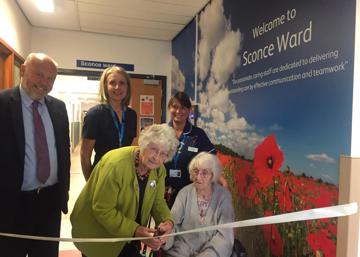 Chair of the Friends of Newark Hospital, June Howsam and Chair of Sherwood Forest Hospitals, John MacDonald officially opened Newark Hospital's newly refurbished Sconce Ward on Thursday 3 October.
The ward has been fully redesigned and now caters more for patients with dementia by having clear pictorial signage on doors, new dementia friendly flooring, better lighting and colour coded areas.
A specialist end of life room, known as the 'Butterfly Room,' has also been created on the ward to give patients who are at the end of their lives some privacy and time with their family. It includes a sofa bed, fully fitted kitchenette and chairs so that patients can spend their final hours in comfort.
Medical staff on the ward have been heavily involved in the revamp and have worked closely with the Trust's estates team to ensure that the project benefits patients and works well for staff. This has resulted in things like mobile nurses stations being set up so that nurses can move their desks on to the ward while keeping a closer eye on their patients.
The dining and day room have also been made cosier with a retro theme including a radio, mock fireplace, large bookcase and fish tank being added to keep patients occupied. A bus stop bench on the ward has also been installed so that patients with dementia can sit and watch the world go by instead of wandering the ward and getting distressed or agitated.
All this would not have happened without the hard work and generosity of the Sherwood Forest Hospitals Charity and Friends of Newark Hospital who have worked in partnership to raise £105,000 for the project, which has cost £250,000 in total.
Assistant Chief Operating Officer, Ant Rosevear said: "We have worked with the dementia carers group , patients and their families to help understand their needs. They told us it was important to have a room that was more comfortable where families can be with their loved ones in peace, which we have managed to achieve with our advanced care Butterfly Room.
"We are so grateful to the Sherwood Forest Hospitals Charity and the League of Friends and our community for their generosity and support, as we would not have achieved so many improvements without them. I hope our patients and their carers will notice the changes and that many will benefit from them going forward."