Home >
News >
2020 >
Sherwood Forest Hospitals sets up wellbeing rooms for staff
Sherwood Forest Hospitals sets up wellbeing rooms for staff
Posted Monday, April 27, 2020 11:12 AM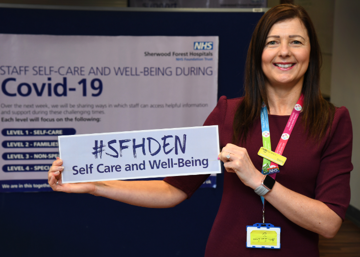 In a bid to help staff who may be feeling overwhelmed, Sherwood Forest Hospitals has set up specific rooms known as 'safe spaces' for colleagues to go and take a few minutes of calm and reflection in.

With the help and funding of the Sherwood Forest Hospitals Charity, the rooms have been set up to include relaxing chairs, mood lighting and have the ability to play music in them. It is hoped that they will offer a short escape for staff who may need to take a short break or period of relaxation time to help deal with the current coronavirus outbreak.
Matron on ICU, Christian Brailsford said: "I think creating a safe space for colleagues is a great idea, the one that we have set up in Critical Care is brilliant. Sometimes you just need a quick five minutes or so, just to step out of the situation you are in and have some time to just reflect and think. It is so important that we look after our mental health and wellbeing during these testing times and I will certainly be encouraging my teams to use the room as and when they can."
Safe spaces have been set up across the hospital in a bid to ensure that staff can have these much needed time out areas. An 'SFH Wellbeing Den' has also been set up at King's Mill Hospital and Newark Hospital, where colleagues can go, whilst maintaining social distancing, for some help or advice on mental health and wellbeing. It is a space where staff can get any information they need or just take a moment out to talk to someone and relax.
Director of Culture and Improvement, Emma Challans added: "We know how important it is, especially at the moment, to ensure that everyone is thinking about their mental health and wellbeing. We know that the situation may be overwhelming for some colleagues and we are doing all we can to support them during this time. We are also doing weekly health and wellbeing videos that colleagues can access remotely to ensure that everyone feels supported and is thinking about their own self-care. I think it helps to just stop and check in with yourself, reflect and make sure you are ok. Many people just carry on and we hope that the support available is helping people to just have that time to think about themselves and their colleagues and know that they have that support if they need it."