Home >
News >
2020 >
First care home residents in Notts get COVID vaccine
First care home residents in Notts get COVID vaccine
Posted Thursday, December 31, 2020 5:05 PM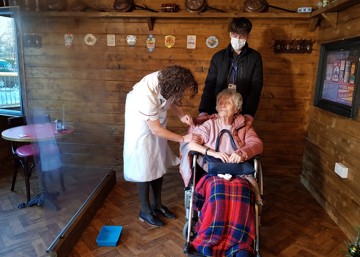 Residents from three care homes (Sutton Court, Sutton Manor and Sutton Lodge), who are part of the Ashmere Nottinghamshire Limited Group, are receiving the vaccine from the Sherwood Forest Hospitals Trust vaccination hub. The vaccine is being delivered as part of the Nottingham and Nottinghamshire Vaccination Programme in collaboration between the NHS and Councils.
All 136 residents at the three care homes are being vaccinated in the separate leisure facilities located at the care complex in a single day.
83 year old June Phelps from Sutton Manor Residential Home is more than happy to get her vaccine. June came to Sutton Manor in 2018 after having a number of falls at home and being assessed as needing more support. She was in the armed forces for 16 years and raised a son and daughter.
June said: "I just want to hold my family again. I lost my husband to COVID-19, so this vaccine is so important."
Councillor Tony Harper, Chairman of Adult Social Care and Health Committee at Nottinghamshire County Council, said: "This is brilliant news for these residents, who haven't been able to have any physical contact with their families in such a long time. It has been a real partnership effort to get to this point and also to plan for the rollout of the vaccine to other homes, which will take place in stages over the coming weeks."
John Brewin, Chief Executive Officer of Nottinghamshire Health Care Trust and lead provider for the vaccination programme said: "This is a momentous day for our care home residents in Nottingham and Nottinghamshire. I'd like to thank everyone involved for working tirelessly over the past few months to get this rolled out to our most vulnerable residents.
"This is the biggest vaccination programme the NHS has ever undertaken. It is a huge challenge and one that has been rolled out at great pace. The roving team are part of a wider vaccination programme that includes all health, care and system partners such as the fire service.  The programme includes vaccinations at the hospital hubs and Local Vaccination Services at fixed sites across Nottinghamshire, these will start to open in January. In time, everyone will be vaccinated so for now we are urging the public to work with us and be patient so we can first vaccinate those who need it most.
"This is a very significant step in the right direction but the vaccination programme will take some time to complete. In the meantime, we still need the public to follow the latest guidance and adhere to the restrictions."
Chief Nurse at Sherwood Forest Hospitals, Julie Hogg, said: "It is brilliant that we have been able to start the roll out of vaccinations to our local care homes, ensuring we protect some of the most vulnerable people in our community.
"As we progress with the vaccination programme it is pleasing to see that we are finding ways to safely transport the vaccine so that it can be used in locations beyond our Hospital Hub.
"Our Hospital Hub remains extremely busy as we continue to vaccinate people in the JCVI priority groups. Please do not contact the hospital, as we will continue to contact you to let you know when you need to make an appointment to come in for the vaccination. Thank you to everyone who has supported us so far." 
The roving vaccination team will continue a staged rollout of the Pfizer vaccine starting in another eight care homes from Monday next week. 
The vaccine rollout that has begun today in care homes locally will now also begin in earnest across Nottingham and Nottinghamshire for those over the age of 80. Letters have started to go out this week with the expectation they will arrive early next week to those in this cohort. These letters will give details on where and when they can get their vaccines.
 The ask is that people wait to get this call up rather than contacting their GP on NHS or other authorities in local communities directly.
The public have an important part to play to help:
please don't contact the NHS to seek a vaccine, we will contact you
when we do contact you, please attend your booked appointments
and please continue to follow all the guidance to control the virus and save lives.