Home from hospital for Christmas
Posted Tuesday, December 22, 2020 12:36 PM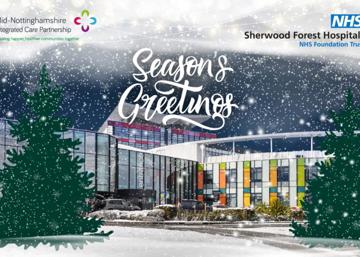 Staff at Nottingham's two acute hospital trusts are doing everything they can to make sure patients can be safely discharged home before Christmas. 
The message to the 1,418 patients currently at Nottingham University Hospitals (NUH) NHS Trust, and the 538 inpatients with Sherwood Forest Hospitals Foundation Trust (SFHFT) is that staff are doing everything they can to get them home or their next place of care. 
The Trusts are today asking families and friends who have a loved one in one of their hospitals to prepare should they be well enough to come home in the next few days. 
Simon Barton, Chief Operating Officer for Sherwood Forest Hospitals, said: "We are working really hard with our partners from health, social care and the voluntary sector to ensure patients aren't in hospital who don't clinically need to be here over the Christmas period. This year more than ever, it is crucial to ensure that emergency patients who are poorly with Covid-19 or other illnesses can get access to the inpatient care that they need over this period." 
Lisa Kelly, Chief Operating Officer at NUH, said: "Our staff put in a huge amount of effort to get patients home to their loved ones at Christmas. There's nothing our staff want more than to be able to tell a patient who thought they may have to spend Christmas in hospital that they are able to go home to their family and friends. 
"What we do know is that sometimes families aren't prepared for their loved to come home just before Christmas, but our fantastic discharge teams can't make this happen for them without their support." 
Simon Barton adds: "If you know loved ones who are part of your support bubble may be coming home, please start to think about getting their bedroom set up, or stocking up their fridge if they live alone, put the heating on and make sure they have everything they need for when they get home." 
Chief Nurse for Sherwood Forest Hospitals, Julie Hogg, said: "For those who do have to stay in hospital over Christmas we're going to do everything we can to make it as special as possible. Our Chaplaincy service will be available to those who need it and our teams on the wards really do go above and beyond at Christmas to make it special for our patients." 
Sarah Moppett, Interim Chief Nurse at NUH added: "We recognise that the visiting restrictions made necessary by the Covid-19 pandemic are incredibly difficult for patients and their families.  Our nursing and medical teams really do go the extra mile for patients who are with us on Christmas Day. At the QMC and City Hospital we are continuing to ensure that patients can communicate with their loved ones over the festive period, by phone or iPad."