Home >
News >
2020 >
Landmark moment as first Sherwood Forest Hospitals patient receives first Covid-19 vaccine in the North Nottinghamshire area
Landmark moment as first Sherwood Forest Hospitals patient receives first Covid-19 vaccine in the North Nottinghamshire area
Posted Tuesday, December 8, 2020 4:59 PM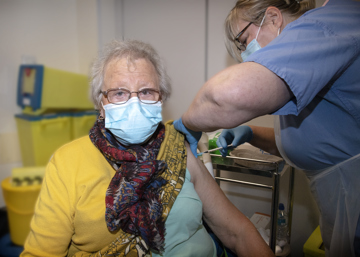 A former NHS worker is the first patient in the North Nottinghamshire area to get the Covid-19 vaccination today (Tuesday 8 December) as Sherwood Forest Hospitals begun vaccinating patients against coronavirus at its hospital hub, at the start of the biggest immunisation programme in NHS history.
Ann Allen, 81, from Sutton in Ashfield, was a physiotherapy assistant at King's Mill Hospital for 27 years, and is the first patient at Sherwood Forest Hospitals to have the vaccine, she said:
"I can't believe I'm the first person in this area to have the vaccine, I feel privileged to be part of this moment in history. I have spent a lot of this year on my own keeping safe, so to have the vaccine and know I'm going to be protected soon is such a relief, my family will be so pleased. 
"We have all made so many sacrifices this year, and I want us to have a more normal year next year where we can see family again, and travel – we're planning to go to the Italian Lakes in the Autumn. 
"I have seen nothing like this in all my years, and my advice to anyone offered the vaccine is if you can, you should.  I would also like to recognise all of the wonderful NHS staff who have worked so hard this year."
Like many around the country, Ann has been self-isolating for most of this year and is planning on having a very small family 'bubble' at Christmas to help keep her safe.
Ann will receive a booster jab in 28 days which is essential in ensuring that the vaccine provides protection.
Chief Nurse for Sherwood Forest Hospitals, Julie Hogg said: "This is such a momentous moment for the Trust and for Ann. I am so proud of everyone who has been involved in setting up the vaccination hub at Sherwood and I'd like to thank them for their hard work and dedication.  
"We are continuing to work with our partners to ensure we can vaccinate those with most need as outlined by the Joint Committee on Vaccination and Immunisation (JCVI). 
"Although it is really exciting that we have begun vaccinating people, I would like to remind people that they should not come to the hospital for a vaccine and we will contact people to arrange an appointment when they need to attend. 
"Vaccination is only one step in the fight against Coronavirus and we all still need to remain vigilant and follow the local COVID alert level restrictions, whilst remembering to wash our hands, wear a face mask and socially distance."
There are 50 hubs in the first wave, of which King's Mill Hospital is one, and more sites will start vaccinating over the coming weeks and months as the programme ramps up.
Patients aged 80 and above who are already attending hospital as an outpatient, and those who are being discharged home after a hospital stay, will be among the first to receive the life-saving vaccine.
Sherwood Hospital will also work with care home providers to book their colleagues in to vaccination clinics.
Any appointments not used for these groups will be used for healthcare workers who are at highest risk of serious illness from Covid or who look after our most vulnerable patients. All those vaccinated will need a booster vaccine 28 days later.
The vaccine will be delivered through a range of routes, starting with Hospital Hubs, then through local Vaccination Services and Vaccination Centres. 
The public vaccination programme will be delivered predominately through Vaccination Centres, supported by Local Vaccination Services.
The life-saving vaccine is typically delivered by a simple injection in the shoulder but there is a complex logistical challenge to deliver from the manufacturers to patients. It needs to be stored at -70C before being thawed out and can only be moved four times within that cold chain ahead of use.