Home >
News >
2020 >
Planning begins for new high tech scanner to be installed at King's Mill Hospital
Planning begins for new high tech scanner to be installed at King's Mill Hospital
Posted Tuesday, December 15, 2020 2:08 PM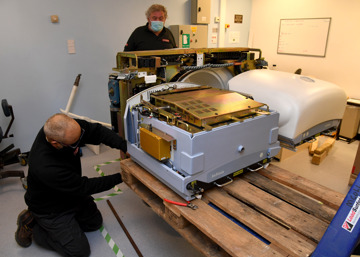 Work has begun at King's Mill Hospital to install a brand new high tech scanner which will improve patient care.
In May, Sherwood Forest Hospitals announced that the Gamma Scanner Appeal raised enough funds to purchase the new high-tech scanner for King's Mill Hospital patients.
With the support of the regional procurement network and with the tremendous fundraising efforts from members of the public, volunteers and staff, Sherwood Forest Hospitals has been able to purchase a state of the art scanner at a cost of £485,000; £65,000 less than originally appealed for in 2018. 
On Tuesday 15 December, the previous Gamma Scanner was removed, so that extensive building works can take place to make way for the larger sophisticated scanner which will be arriving in April 2021.
The new modern nuclear medicine machine, which has a CT (computerized tomography) scanner attached to it, will enable more than 2,000 patients each year to have advanced scans. The advanced scans will be able to speed up the diagnosis of diseases like cancer with greater accuracy, and will revolutionise how patients are treated in the local community.
Robert Bradley, Superintendent in Nuclear Medicine at Sherwood Forest Hospitals said: "The removal of our previous Gamma Scanner is exciting news for our patients. We will be receiving the new scanner shortly and our patients will be able to benefit from the new technology soon, which includes advanced scans and quicker detailed diagnosis."
"Having this new Gamma Scanner at King's Mill Hospital enables patients to have two scans at once, and therefore cuts the amount of hospital appointments and scans patients need. It also means that the nuclear medicine department can scan more patients. This means that we can speed up the diagnosis for diseases like cancer for more patients, enabling them to get treatment sooner. "
"This new piece of equipment is extraordinary, and we are very grateful to everyone who donated and supported the Gamma Scanner appeal. Thank you."
Shirley Higginbotham, Director of Corporate Affairs added: "We are incredibly grateful to everyone who supported, volunteered, donated and fundraised towards our Gamma Scanner appeal over the last two years.
"Thank you for your generosity and for everything that you have done, individually and collaboratively to support Sherwood Forest Hospitals to deliver outstanding care to our patients and local community."
The new Gamma Scanner will be delivered to King's Mill Hospital in April 2021, following building works taking place to prepare the site for the bigger machine.
Following the success of the Gamma Scanner appeal, Sherwood Forest Hospitals has launched an End of Life Care Enhancement Programme. The appeal provides enhanced ward facilities to enable staff to deliver high quality outstanding care for their patients in the last days of life.
The appeal will also provide emotional and practical support to carers and families at a difficult time. For more information on the appeal, or to donate please visit: https://www.justgiving.com/campaign/SFHCharityEOL